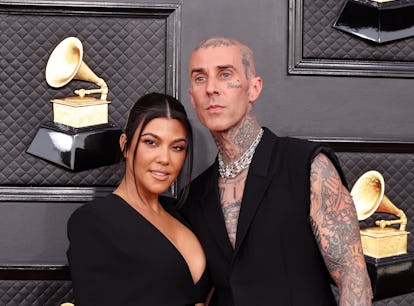 Travis' Birthday Instagram For Kourtney Had Emo Tumblr Vibes
His caption was everything.
Amy Sussman/Getty Images Entertainment/Getty Images
A Poosh-themed party, anyone? I'll bring the avocado smoothie; Kravis can bring the PDA. On April 18, Kourtney Kardashian celebrated her 43rd birthday—she's an Aries, obvi—and Travis Barker was more than ready to spoil her. In honor of her special day, the blink-182 drummer posted a sweet tribute on IG, complete with a sappy caption. The post really shouldn't come as a surprise though. Ever since the couple got engaged in October 2021 (and even before then, TBH), Kravis has been fawning all over each other. It's no wonder, then, that Barker's 2022 birthday Instagram for Kardashian was super sweet.
"My best friend, my lover, my everything. Happy Birthday @kourtneykardashian. I love you ♾️," Barker wrote alongside an over-edited pic of the two of them. (No shade though, I love the black-and-white Gothic vibes.) Just don't let the filter distract you from how steamy the picture actually is. It might even be hotter than their red-carpet Frenching.
In the photo, it looks like the duo is lounging on a bed, and they're both scantily clad. Kardashian's wearing a lacy slip, and Barker's shirtless. Not to mention, Barker has his arm wrapped around Kardashian's throat (in a non-threatening way, of course). He tagged famed photographer Ellen von Unwerth.
Kardashian replied to the post with a sweet comment of her own, "All I could ever dream of and more ♾️," she wrote. I can't with these two!
This Instagram wasn't the only present Barker gave Kardashian. (Um, maybe his love language is savvy posting?) A day before her birthday, Barker made a point to defend his relationship with Kardashian on Instagram. On April 17, after a troll commented on his recent IG, "No kardashian finger up the a**, tongue, intestines, nudity, pda, etc etc anymore? Slacking." (BTW, the post was a promotional one for Barker Wellness — so no, it didn't involve any of those things.)
Barker replied, "Still got the finger up the a**, and my intestines, were totally nude and full pda with my fiancée." To drive the point home, he added a middle finger emoji. OK, so not the most traditional gift, but it definitely made a statement.
Here's hoping Barker's Instagram was only the start of Kardashian's birthday celebrations. IDK about you, but I have a feeling there's plenty more in store. Like a spontaneous trip to Vegas, perhaps... this time, with a marriage license in hand?