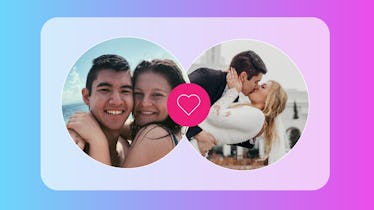 This Couple Met On An Christian Dating App & Got Married Four Months Later
Elite Daily/Kelsey Cadenas + Aliza Eaton Henline
Are you dying to know what a couple's relationship is really like? Elite Daily's new series, ILYSM, celebrates couples who met on dating apps and dives into the inner workings of their relationships. How did they know they were falling for each other? Who sent the first awkward message? What's the one thing they fight about? Are they astrologically compatible, and do they care? By the end of each story, you'll love them both so much.
Aliza Eaton, 21, and Austin Henline, 22, met on Mutual ⁠— a dating app designed for single members of the Church of Latter-Day Saints (LDS). Austin used Mutual for a year and went on almost 100 dates before meeting Aliza, while Aliza only had the app for one night before she matched with Austin. Their first date was so good, she deleted Mutual immediately afterward. After feeling an instant connection over sushi and a dance-off in a park (so cute), the two dated for two months before getting engaged.
They matched in September 2018, got engaged that November, and said "I do" in January 2019, in a traditional LDS temple wedding. Despite their quick courtship, Austin and Aliza are clear on one very important thing: They're perfect for each other. They're currently finishing up college at Brigham Young University in Provo, Utah, where Aliza studies communication disorders and Austin studies strategic management. When they're not in school, Aliza works at a soda shop and as a social media coordinator for a recycling business. Austin works as a program coordinator for Especially For Youth, an education program for church youth.
Here's their story.