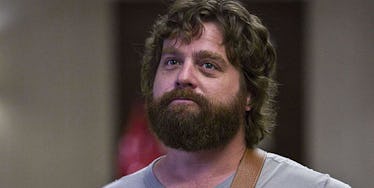 5 Things Girls Who Hate Their BFs' Movember Beards Need To Remember
Warner Bros. Pictures
This November, your boyfriend may be growing out his beard.
But don't worry: It's for a good cause! "No Shave" November is The Movember Foundation's movement to raise awareness and funds for an array of serious men's health issues.
So, when your dude's scruff starts growing into a full on mustache or nice, scraggly beard this month — and you just so happen to hate it — just remember he's sporting his new, thick facial hair for a few pretty amazing reasons:
He's raising awareness for testicular and prostate cancer.
This year, about 8,000 men will be diagnosed with testicular cancer, half of whom will be between the ages of 20 and 34, according to the American Cancer Society.
Not only are most of these cases affecting millennials, but it's also the most common form of cancer for guys ages 15 to 34.
And yet,  even though 380 men will die of the disease this year, a Today show survey found that 56 percent of men find testicular cancer embarrassing to talk about.
56 percent of men are embarrassed to talk about testicular cancer.
On the other hand, prostate cancer is also a concern, since 1 in 7 guys will be diagnosed with it in their lifetime, and one American dies from it every 19 minutes, according to The Movember Foundation.
That's why No Shave November is so important: It brings awareness to these diseases and how many men are affected by them every single day.
And he's also raising awareness for testing.
The Today show's commissioned "State of Men 2016" survey of 1,001 men found that despite 88 percent of men thinking they should examine themselves for testicular lumps, only 14 percent actually do.
and to the fact that guys should start examining themselves starting at 15-years-old.
Movember beards bring attention to the simple, three-step self-exam that guys can start giving themselves in the shower starting at age 15.
It involves holding one testicle at a time between their finger and their thumb and feeling for any hard lumps or changes.
If they notice anything abnormal about the size of their testicles, they should see a doctor right away.
Prostate cancer, on the other hand, is not something that's detectable through self exams.
So, your guy's mustache also serves as an important reminder to other guys that they should be going to their doctors for regular check-ups.
He's helping to raise money for important causes.
Signing up to grow a Movember beard helps to raise money for men's health charities all over the world.
Since its inception, The Movember Foundation — which funds over 1,200 programs in 21 different countries around the world, including ones that support men's mental health and suicide prevention — has raised $710 million. (wowza!)
Oh, and your boyfriends aren't the only ones helping to raise money with their impressive beards. You can do your part and donate, too.
Or, buy a box of SKYN Condoms' Special Movember Edition rubbers, and 50 cents will go directly to the The November Foundation.
Your boyfriend is saving young lives.
November beards are meant to start conversations, which help save lives.
As Mark Hedstrom, head of The Movember Foundation, explained to the Today show, "When you see a guy on the street with a 10-day-old mustache, you're going to start asking a question, and they become walking, talking billboards for men's health."
His beard will be gone by December!
Look, I know it may be hard to kiss your guy this month without getting scratched. And,  you don't like him hiding his beautiful face under all that hair.
But hair is just hair! Remember, Movember only lasts 30 days. You'll have your old, groomed guy back before Christmas, so you can kiss his beardless face under the mistletoe.
You know what they say: "Grow a mo, save a bro."
Grow a mo, save a bro.