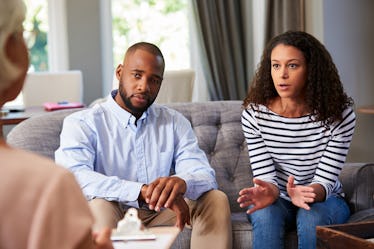 10 People Reveal How Therapy Saved Their Relationships
More tools = better communication.
Shutterstock
You might envision couples therapy as a sort of "last-ditch" effort to salvage a relationship that's beyond repair. But that impression of this valuable mental health resource couldn't be further from the truth. In fact, one study published in The American Journal of Family Therapy surveyed 59 couples who sought therapy and found that most of them actually wanted to preserve their relationships, with 25% of them seeking to address one aspect of an otherwise happy partnership. And while couples therapy is not a quick-fix solution to endless fights, it can be transformative — giving partners the space to craft potentially relationship-saving communication strategies together.
Seattle-based sex and relationship therapist Claudia Johnson works with both individuals and partners at the Pacific Northwest (PNW) Sex Therapy Collective. And while there are many types of relationship therapy (a more inclusive term that refers to couples therapy, because people in polyamorous relationships also seek these resources!), Johnson says its core purpose is to facilitate more effective communication. "In relationship therapy, you're working with the space between those individuals," Johnson tells Elite Daily. "You're working with their experiences and their frameworks to build awareness. It's about getting more information and relearning how to communicate in a way that is nonjudgmental and noncritical."
For anyone currently receiving individual therapy and wondering if they could benefit from relationship therapy, Johnson says she'll typically recommend it if there's an ongoing issue between partners that individual therapy hasn't been able to solve — like, for example, if an individual feels the need to "protect" their partner in therapy, or if there's a general desire to deepen intimacy and connection. But anyone can benefit from therapy, even if just to ensure their relationship has a solid foundation. "There's this notion that something has to be wrong and you're coming into therapy to fix it," says Johnson. "But none of you are broken, and there is no fixing. It's just more learning."
To illustrate the role therapy can play in relationship-building, I spoke with 10 people about their experiences introducing it into their partnerships. Here's what they revealed.
Content warning: This story contains mentions of sexual assault and toxic relationships.
*Name has been changed.
Studies referenced
Mamodhoussen, S.; McDuff, P.; Sabourin, S.; Tremblay, N.; Wright, J. (2008) Refining Therapeutic Mandates in Couple Therapy Outcome Research: A Feasibility Study. The American Journal of Family Therapy, https://www.tandfonline.com/doi/abs/10.1080/01926180701236175
Experts
Claudia Johnson, MA, Licensed Marriage and Family Therapist Associate with the PNW Sex Therapy Collective