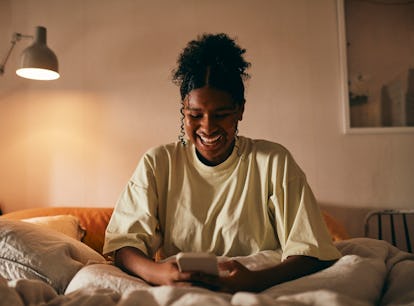 8 Sweet Texts To Send Your Partner On Valentine's Day If You Can't Be Together
Maskot/DigitalVision/Getty Images
Odds are, there's someone out there who you love so much, you'd go through anything for them. Anyone who's suffered through the sometimes agonizing absences that come with being in a long-distance relationship know exactly what I'm talking about. While there's no doubt you've probably found a way to deal with all the feels and manage the distance, nothing quite amplifies the pain of being apart like spending another Valentine's Day without your boo. That's why thinking of sweet messages and texts to send your partner on Valentine's Day is particularly important when being together isn't an option.
If you've ever been in relationship with someone who didn't live in the same city as you, you likely already know how important it is to take advantage of the conveniences of modern-day communication. Although the thought of sending a romantic love letter or scandalous photo the old-fashioned way sounds v cute, I think we can all agree that the instant gratification of iMessage is definitely the more reliable (and faster) option.
After all, regular digital communication can pay off in keeping your relationship healthy. According to Rachel Dack, a licensed counselor and dating coach, "Keeping the lines of communication open is essential in keeping the connection going and promoting intimacy and closeness during physical time apart."
It's all about staying thoughtful and finding unique ways to connect. "Long-distance couples can schedule regular video dates together. Flirting, keeping things sexy, and putting effort into your appearance before a video date can go a long way in keeping your spark alive in between in-person visits," Dack previously told Elite Daily. "Thoughtful gestures, such as surprise gifts or love letters, are also valuable ways to keep the spark alive and show love."
So, if you and your SO can't be together this Valentine's Day, make sure you take the time to let them know exactly how you feel. Need some inspiration? Here are eight achingly sweet texts to send to your boo come V-Day.
1. "Even Though We Can't Celebrate Together, I Just Want You To Know That I'm So Glad I Found You."
One of the hardest things to come to terms with can be the pain of having found such a special person whom you can basically never be with. But hey, you can't have it all, so try to stay focused on the fact that, somehow, in a sea of billions of people, the universe still brought the two of you together.
2. "Your Love Always Gives Me Something To Smile About."
Research shows that one of the keys to happiness in the long term is something surprisingly simple, yet so many of us underestimate it. Yes, the power of regularly practicing gratitude is proven to keep the blues at bay. So letting your partner know how grateful you are to them for making you smile, despite being apart, is just the V-Day pick-me-up they'll need — and it'll make you feel better, too.
3. "I Miss You So Much And Wish We Could Be Together, But You're Definitely Worth The Wait!"
A common fear that plagues many long-distance couples is not knowing whether all the trials and tribulations will actually be worth it in the end. And while no one can answer that question with any certainty, you'll never know if you don't take the chance. Valentine's Day is a great opportunity to let your partner know that you are confident in the relationship and in the sacrifices you're both making.
4. "Always Missing You, But Especially Today. You're Amazing To Be With And So Hard To Be Without!"
While I'm pretty sure you're both constantly in a state of missing each other — absence makes the heart grow fonder, and all that — letting your partner know just how much you wish you could be together is an absolute must.
5. "I Want You Today, Tomorrow, And Forever. Happy Valentine's Day, Baby!"
If you're planning on having a FaceTime date later in the day, sending a quick message for them to wake up to is a thoughtful way to ensure their day gets off to the best start possible, despite not being with each other.
6. "I Woke Up This Morning Feeling So Lucky For What We Have, And No Amount Of Distance Will Change That."
Say it again for the folks in the back — gratitude, gratitude, gratitude! Distance doesn't have to be a dealbreaker as long as both of you can stay strong and focused on your future plans.
7. "Thinking About All Of Our Future Valentine's Day Dates... But Until We're Together, I Love And Miss You."
You don't have to be a poet to get your romantic feelings across. Sometimes the simplest messages can be the most meaningful. If you're feeling especially blue on V-Day, try looking to the future. Long-distance doesn't have to last forever!
8. "Be Mine... Even If It's Over FaceTime."
You don't have to indulge in Valentine's Day puns, but if the Hallmark greeting cards are inspiring you, why not send a holiday-themed text? Plus, having a date on the books (yep, even a virtual one) can make this day feel more special. Extra points if you set the mood with some candles, a nice dinner, and some romantic tunes.
Spending the only couples' holiday of the year away from your love definitely isn't ideal, but starting their day off with a positive and heartfelt reminder of the good thing you have going is the perfect way to help keep your love flowing.
Expert:
Rachel Dack, a licensed counselor and dating coach
This article was originally published on