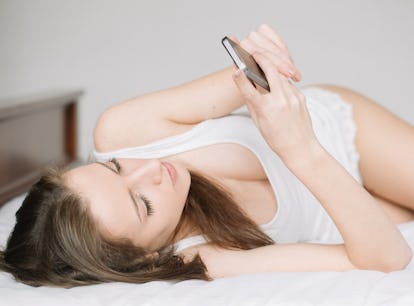 29 Texts To Send Your Friend With Benefits If You Want To Hook Up Tonight
"You've been running through my mind all day… Maybe run over to my place next?"
If you're anything like me, chances are you can appreciate spontaneity (within reason) in others, but you feel your best when you have a plan in place and it all comes together. On the weekends, you know who you're hanging out with, where you're going, what you're going to order at the restaurant, and maybe even who you're going home with. If you, too, are a self-identified planner, this probably means that — when you're single — you might even have your FWB on speed dial, and you're no stranger to the texts to send if you want to hook up tonight — and on the regular.
But if you have no idea what to text your friend with benefits — maybe this is your first time experimenting with a friends with benefits text, setting up a booty call in advance, or even shooting them a last-minute invite to come play in your boudoir — the reality is, you can be as straightforward as you'd like and your odds of getting a positive response is high. I mean, getting an invitation from a hottie like you is pretty much what dreams are made of, right?
So yeah, a straightforward text will probably get the job done, but where's the fun in that? Take the opportunity to get a little more creative and set the tone for what will hopefully be a very fun night. Here are some ideas for dirty texts to send to your FWB to get you started.
Closed mouths don't get fed, so if you really want to get it tonight, speak (or text) your truth.
This article was originally published on