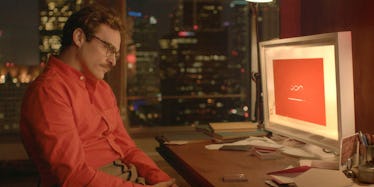 How To Use Technology In Your Relationship Without Letting It Get In The Way
Warner Bros.
People can be pretty lazy. But there are plenty of things you can do without getting off your couch: read a book, watch a movie, chat to friends and, thanks to apps like Tinder, even date.
But while technology helps us out in the dating game, once we're actually in relationships, it often gets in the way.
We now spend about eight hours a day consuming media. This is quality time we could be spending with our partners.
And considering 75 percent of women in committed relationships say smartphones interfere with their love lives, it might be time for some couples to rethink their technology usage.
But this doesn't necessarily mean reaching for the off button.
There are ways to use technology to actually better your relationship and bring you closer to your partner.
Here's how it can help:
Use it to mediate your conversations.
We've all likely observed couples or families from afar engaged in their devices and oblivious to their loved ones. It's upsetting to watch, and it's definitely a grim situation when we prioritize technology over relationships.
But if we flip that around and begin to use technology to prioritize our relationships, we could actually learn how to better communicate with our partners.
While having complicated conversations through text can have negative and unintended consequences, apps that help mediate conversations could do your relationship some good.
For example, Couplewise.com is an automated couples therapy that helps couples set contracts with each other and understand patterns in their relationships.
There's also Relationup, an app that provides relationship tips. Users can chat with relationship advisors — people hold at least a Master's degree in psychology, counseling or related fields — to get help with relationship problems on the spot.
Use it as fuel for new ideas and creativity.
According to relationship therapist Esther Perel, we often look to our partners to meet two conflicting needs: We want them to be our committed companions, but we also want them to fulfill our needs for desire and surprise.
Unfortunately for us, however, relationships sometimes get stuck in boring routines. And the element of surprise pretty much goes by the wayside.
But through technology, there is an opportunity for couples to make things a little more spontaneous.
Desire 42, for example, is an app that allows couples to play "adult games" with each other.
You and your partner can choose from more than 20,000 dares and compete against each other to win points. The more points you get, the more erotic the dares become.
And PlsPlsMe is an outlet that helps couples suggest new things they'd like to try in the bedroom.
With the app, both partners swipe through new sexual activities on their own and select the ones they'd most like to try. Your partner is only alerted about the new activity if they've chosen it, too.
So forget about being embarrassed to mention something new you'd like to try, as this app is a clever way to reduce the emotional burden that sometimes comes along with talking about sex with your partner.
Use it to educate yourself... with porn.
Mainstream porn traditionally focuses on sex. And it does, in fact, have a dramatic effect on relationships and real-life intimacy.
Porn gets a bad rap, but it's not all bad. It can be used to increase connection, intimacy and education around sex, especially when couples use a platform like Make Love Not Porn, which allows them to upload their own sex tapes.
Before completely ruling the idea out, read what founder Cindy Gallop had to say about the platform:
She told BuzzFeed the website takes "the shame and embarrassment out of sex and make it easier to talk about, thereby encouraging better communication around sex to enable more and better sex IRL [in real life]."
She says Make Love Not Porn falls under the category of Sex Tech software, which is designed to bring people closer together.
Sex Tech hardware (i.e. sex robots), on the other hand, drives people further apart and into their own little worlds, Gallop argues.
There's also OMGYes, another website that draws on the social aspect of sex.
The platform allows users to watch videos of women explaining and demonstrating the "specifics of female pleasure" to help women learn more about their bodies.
Hang out in virtual reality.
Using virtual reality (VR) with your partner in the room is a serious force for disconnect. (There's no way you're paying attention to anyone with a headset on your head.)
But for couples in long-distance relationships, VR is a different story. It can make being away from a loved one a little more bearable.
In this post entitled, "Long Distance Relationships Suck, But VR Made it Easier," author Nathan Grayson recounts how he uses VR to connect with his long-distance girlfriend.
Apparently, Grayson and his girlfriend use the VR app AltSpace to meet and hang out in. With the app, they watch YouTube together, play board games and explore jungle mazes. They can engage in sword fight, which could also be a good way to resolve an argument.
Using technology the right way definitely has the potential to bring you closer to your partner.
So, next time you're annoyed your SO is texting through dinner, try not to get frustrated. Come armed with some fun app suggestions you can use together, instead.
Darren Smith is the Founder of Pillow Play, a playful intimacy app that helps busy couples feel closer.