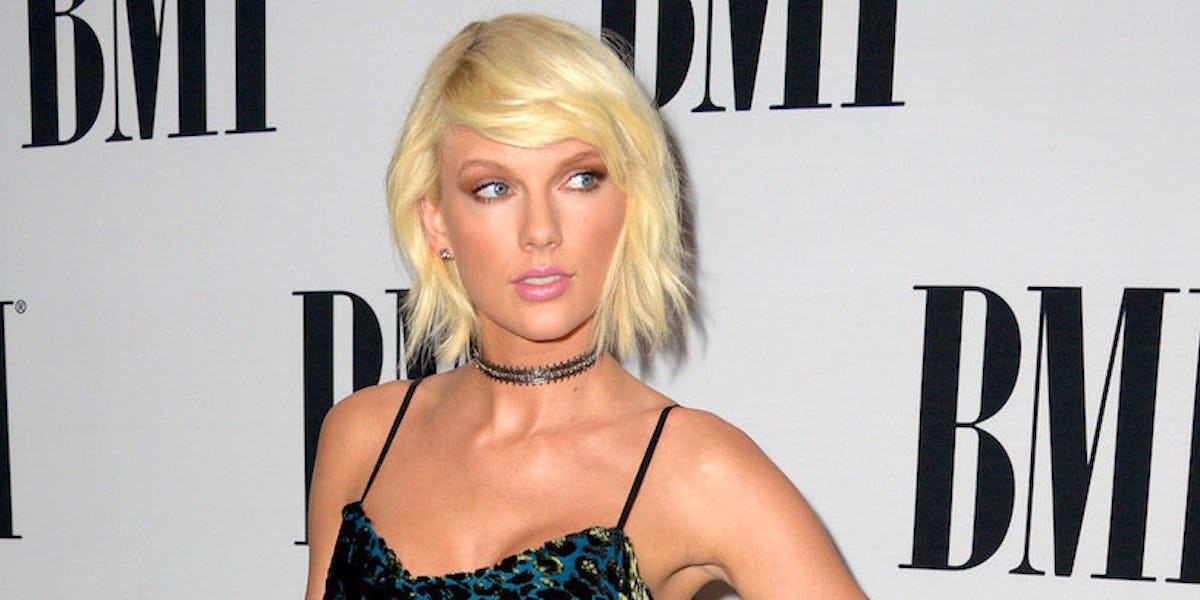 No, Taylor Swift Doesn't Need Her Exes' Approval To Write Songs About Them
REX/Shutterstock
OK, guys. There is some buzz around the web about how Taylor Swift shouldn't be angry with Kim Kardashian for recording her phone conversation, in which she infamously gives Kanye West approval for his lyric, "I feel like me and Taylor might still have sex/ Why? I made that bitch famous." (Swift is even considering taking K and K to court).
The justification people are using for why Taylor shouldn't be angry is because she writes "diss tracks" about her ex-boyfriends all the time without their approval:
Then, you have Camilla Belle, who is rumored to have called out Swift with one cryptic tweet for writing "Better Than Revenge," a tune about Belle and their mutual ex Joe Jonas:
Then, in another corner, you have John Mayer, who infamously slammed Swift a long while back for writing "Dear John" without phoning him up and asking him if it's OK. He called it "cheap songwriting." (That's a little presumptuous for him to assume the song is about him? No? How does he know Swift didn't date another John? Moron.)
Everyone hates Swift right now, but I have something to say. I'm only going to say it once, so listen up: Taylor Swift does not need approval to write songs about her exes.
She doesn't need the approval of you, of her ex-boyfriends, of the ex-girlfriends of her ex-boyfriends or of your grandmother's second cousin's ex's fiancée. Let me break down why for you.
If her exes didn't want to be written about, well, then they shouldn't have hurt her. And friends, that's what they all did.
Harry Styles was caught kissing another girl while he was dating Swift, so Swift penned "I Knew You Were Trouble." Jake Gyllenhaal didn't show up to Taylor's birthday party when he said he would, so she penned "The Moment I Knew." In a rare plot twist, she felt the need to apologize to Taylor Lautner by penning "Back To December" because Lautner allegedly liked Swift more than she liked him.
Don't question me. I have a PhD in Taylor Swift songs.
Hey, let's also not forget this: MALE ARTISTS SING ABOUT THEIR EXES ALL THE TIME. And so do other female artists, but for one reason or another, Swift is always the one taking the heat for the rest of the music biz's heartbroken souls.
The second part of my argument is, it is both unfair and ludicrous to compare Swift not getting approval to write songs about men to Kimye not getting approval for releasing the taped conversation or to Kanye calling Taylor "that bitch."
Why? Because Kanye explicitly uses Taylor's full name in his song. He doesn't use "bitch" in allusion to some girl. He literally calls Taylor a bitch.
How the hell is that as offensive as Taylor writing a lyric like, "You got that James Dean, daydream look in your eye?" It isn't because when Taylor seeks revenge, she does it with class. (Side note: I'd like to point out I am actually a fan of Kanye's music in addition to being a fan of Taylor's music. The two don't have to be mutually exclusive.)
But I am not just backing Swift because I also essentially get paid to call out men when they deserve to be called out. I'm defending her because what the hell do you expect her to do? Roll over and play dead when people have wronged her? She keeps all her subjects anonymous, uses smart rhyme schemes and paints a story so good we feel like we're living through her ups and downs with her.
We should be praising her for skillfully being able to do something most of us don't know how to do. (Is that what it is? Do you all just hate her now because you're jealous of her talent?) And if she didn't use her exes as subjects, well, then, she wouldn't be so damn good at her job. The reason she stands out over artists like Selena Gomez, for example, is because she isn't afraid to get specific with the details.
One last thing: Do you know what you'd be saying if she didn't call out the people who've wronged her? You'd be calling her weak for sitting there and not doing anything about it.
"She has no spine!" you'd say. Or, you'd tell your friends, "What a bad role model for young women Taylor Swift is for not sticking up to the man."
Either way, Taylor loses, so get off your high horse. Not to mention, you'd also be sitting around, twiddling your thumbs and wondering what the hell her music would be about because every single song worth loving is a love song. 
Think about that the next time you're jamming out to a Rihanna, Katy Perry or John Mayer jam.
Keep doing you, Taylor.