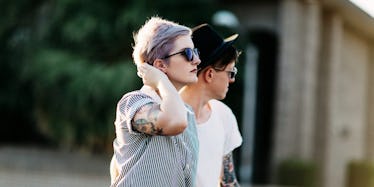 Surprising Challenges You Face When Your Boyfriend Is Also Your Best Friend
Matt and Tish
There's a really beautiful Greek mythology story about how humans initially were created with four arms and four legs.
But then (and I'm paraphrasing here), humans did something to piss off some god, and as punishment, he split each human into two pieces, leaving the two separate parts to wander the earth looking for their other half — and that's what makes a soulmate.
This is what I believe is happening when two best friends fall in love.
For the most part, it's awesome and makes for some of the strongest relationships. But there are some quid pro quos that come with dating your BFF.
I should I know... I'm doing it.
Here are six unexpectedly difficult things that happen when your boyfriend is also your best friend.
They know and see all of your bad habits.
Sometimes, when romance is strictly romance, our rose-colored glasses protect us from seeing the negative, gross habits or behaviors of our soulmates. In this case, if your boyfriend is also your bestie... believe us, he is onto you.
Chronic nail picker? He knows about it.
Weird bathroom habits? Trust us, he knows.
Mouth breather? He hears it. Sees it. Smells it.
This makes it trickier to dupe them into seeing your natural beauty when they also see your natural funk.
There's no mercy when it comes to sharing.
Your best friend isn't here to impress you... they're here to eat that last slice of pizza.
Outside of holidays and special occasions, don't expect chivalry or charm from your bestie-boy. It's every man for himself when it comes to the last piece of extra cheesy garlic bread with stuffed crust.
Your best friend isn't here to impress you... they're here to eat that last slice of pizza.
They aren't afraid of making you feel stupid.
In strictly romantic relationships, both partners may try to maintain the facade of perfection. Your best friend, however, is there to tell you when you look like a fucking idiot.
Having a BFF as a boyfriend makes you subject to things like prank wars, embarrassing photos and an overall tendency to make fun of one another.
If you fall asleep with your cat's butthole on your face, you better believe they're going to Instagram for the world to see.
They have opinions about and will weigh in on your family drama.
Movies and TV shows might make you believe your family falls under the "in-laws" category, making them OFF LIMITS to your SO. Meaning if your boyfriend wasn't your best friend at first, you might feel their family matters are none of your business.
However, if your boo did start out as your best friend, odds are they've been around your family tree once or twice and have tapped into some deep family baggage. As a result, they have some deeply rooted opinions of their own.
If you think they'll plead the fifth and stay out of the next family issue, guess again. The Best Friend VIP pass trumps the Boyfriend VIP pass and allows your baby boo backstage access into your family drama.
They aren't afraid to fight with you.
Sometimes, fighting in relationships can be a BIG SCARY THING — like, OMG, TRAUMATIC — leaving you feeling like "WAIT, SHOULD WE BREAK UP?"
Fighting with your best friend is a totally different animal.
For starters, your bond is different and deeper. They know you aren't going anywhere, so there is less fear of saying the wrong thing or hitting too low below the belt.
They know you aren't going anywhere, so there is less fear of hitting too low below the belt.
Plus, they are better at calling your bluff and know when you're just acting out vs. seriously considering "running away and never coming back!"
This can make for much more personal arguments and deeper cuts.
There's more at stake if you break up.
Though I'm a firm believer that best friend-boyfriends are the most bulletproof out there, there IS more at stake. If this relationship doesn't work out, you have a whole lot more to lose than just a date night partner.
In giving your boyfriend access to your whole world, you've put almost everything in your life on the line should the relationship not work out, and you won't have your best friend there to turn to if you guys fail.
You'll lose your support system. And losing your support system means starting over at square one and a whole new world of loneliness.
But to be honest, it's totally worth it. You know what they say... a picture of a cat's butthole touching your face is worth a thousand romantic words with your best friend and lover.