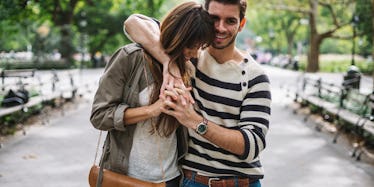 9 Signs You're Finally In A Mature, Adult Relationship
Media dictates so much in today's world — including relationships.
Whether portraying unrequited love, forbidden love or passionate love, the media's ideas of love all have something in common: drama.
After all, drama drives the media.
But, guess what? When you're in a dramatic relationship, this reality isn't so appealing. Dramatic relationships are just plain sh*tty, and there's nothing romantic or alluring about that.
Real relationships, to be quite honest, could almost be considered boring, and the media doesn't value "boring."
For years, I bought into the idea that a relationship needed some type of drama to be legitimized. As I'm settling down, I'm realizing how truly wrong and exhausting that mentality was.
For the first time in… well, ever, I'm in a healthy, mature relationship. It's different than previous relationships I've had because this one is real. It is solid. It is stable. It is everything I've ever wanted, and everything I didn't know I needed.
It's also everything I ran away from in the past because it just seemed too "boring." Only now am I realizing that there is a difference between a boring relationship and a stable, mature one.
1. Being your significant other's partner isn't hard.
Until recently, I always struggled when I was in a relationship. Feelings of uncertainty and anxiety were overwhelmingly normal, while feeling secure in the relationship was not.
Maybe this is obvious, but it shouldn't be the case. Being someone's partner should come easily rather than feel like a chore or a responsibility.
2. You don't have to be in contact 24/7.
Part of an adult relationship is realizing that each person has his or her own world, separate of one another. This means that being together all the time or constantly texting just isn't feasible, and that is okay.
Actually, it's even nice. I love my boyfriend, but if I talked to him constantly, I'd go crazy.
3. You don't want to change your significant other.
I'll admit that I have a history of seeking out broken people and trying to fix them, which never ends well. This isn't the case in a healthy relationship.
In a healthy relationship, changing your partner shouldn't even be a desire on your radar. Changing annoying little habits is one thing, but changing or fixing who someone is as a person should not be your goal. Maybe he or she isn't perfect, but he or she shouldn't have to be.
4. Your significant other balances you out — and even calls you out.
Rather than always agreeing on every aspect of life, your relationship tests and challenges your views. Your partner brings new views to light — possibly ideas that oppose your own.
When you don't agree on a topic, it isn't the end of the world. You acknowledge each other's positions and move on.
5. Discussing the future isn't scary.
In immature relationships, there is less certainty and less communication about the status of the relationship, therefore less willingness to discuss the future.
In an adult relationship, plans can be made months in advance without stopping to wonder where the relationship will or won't be.
6. You may disagree, but you don't all-out fight.
Observing how the other person argues and adjusting your own style is a learning process, but part of a mature relationship. For example, I tend to shut down when I am angry, whereas my boyfriend is more direct.
Adjusting to this was difficult at first, but now that we know each other's style of disagreement, we are able to communicate in a more mature manner.
7. Showing your love becomes more important than verbally expressing it.
It used to irritate me that I am more vocal about telling my boyfriend I love him. He, on the other hand, doesn't say it as often, but shows it in his actions.
Over time, I've realized that this is preferable to hearing it all the time. Sometimes love is in the day-to-day actions rather than the literal words, and this is definitely a more mature viewpoint.
8. Jealousy is a non-issue because the relationship is founded on trust.
In an adult relationship, the male can have female friends and vice versa without the world coming to a screeching halt. Each partner is secure in the other's commitment and does not possess an unfounded worry about cheating or dishonesty.
9. You're in synch with one another – mentally and physically.
This may sound like it's about sex, but it is not the case. It's more about knowing a person so well and having developed such a connection that his or her smallest movement can be predicted — or sentences finished. It's about him or her becoming an extension of you in a healthy way.