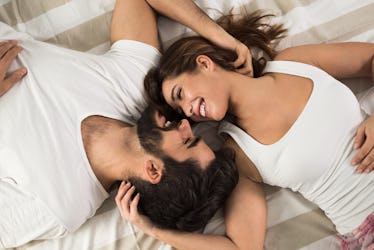 These 15 Songs About Falling In Love Will Give You All The Butterflies
Shutterstock
Falling in love can be one heck of a rush. There's so much excitement and joy that it's hard not to feel happy when you're with the person who loves you the most. And trust me, tons of artists have felt this way, too. In fact, there have been so many musicians who have released songs about falling in love that you won't have to look far to find the perfect tune to describe your romance.
Taylor Swift's 2019 album Lover was all about the joy of falling head over heels, and she made the album after finding love with her beau Joe Alwyn. Shawn Mendes also released a sappy love-filled album in 2020, Wonder, after he become boo'd up with Camila Cabello. But even if you're not quite ready to pen a love song of your own, the best songs about falling in love can capture what you're feeling regardless.
If you need help confessing your love to someone (or are simply trying to find the perfect song that describes your emotions), then you've come to the right place. These 15 songs about falling in love will have you feeling more loved up with your new boo than ever. Enjoy!
Give these songs a listen, and you're sure to appreciate the joy of falling in love more than ever.