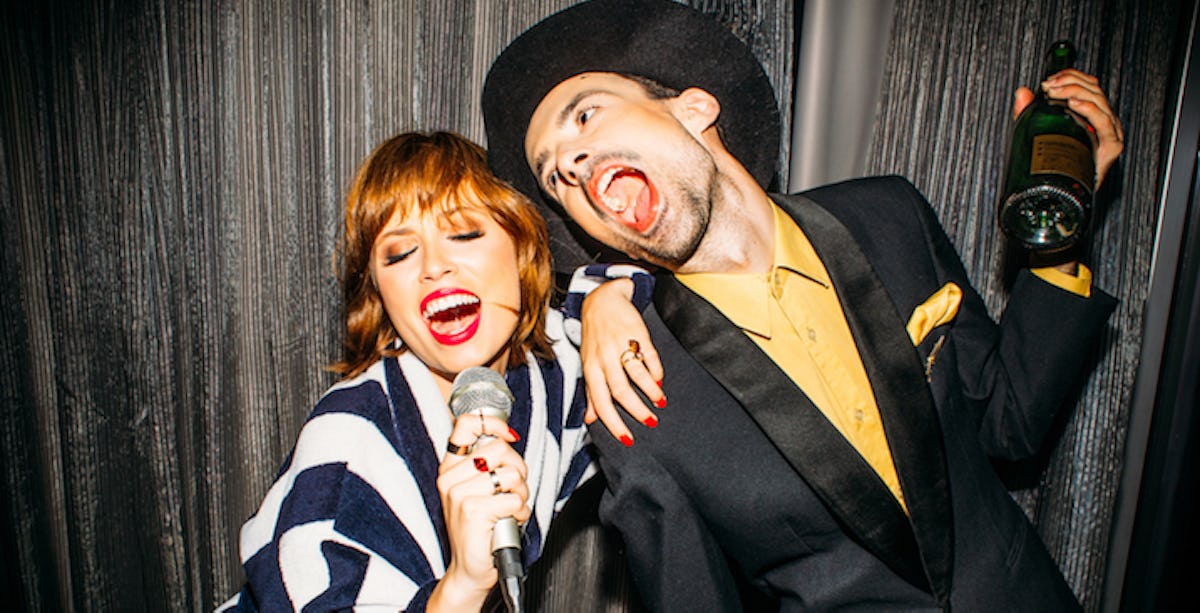 5 Song Lyrics That Are Perfect To Use In Your Dating App Bio
Studio Firma/Stocksy
Creating a bio on a dating app can be difficult. Do I tell people my height and weight? That I'm an introverted Pisces? Do I need to give my social media information and my social security number?
I never know what is too much or too little information, and typically, I tend to be a little too sarcastic and scare guys off. For example, one time, I said I was looking for an extremely serious relationship and was ready to have kids ASAP.
Yeah, I didn't get a lot of matches with that one.
If you're stuck on what to say in your dating app bio (like I am, most the time), then maybe some song lyrics will do the trick instead.
Here are five song lyrics that are perfect to use when you don't quite have the words to say in your Tinder bio.
1. "Come On Over In My Direction. So Thankful For That, It's Such A Blessin', Yeah."
There's no doubt that "Despacito" by Luis Fonsi is the song of the summer, especially since it features both Daddy Yankee (hi Daddy) and Justin Bieber.
The lyrics "come on over in my direction" can refer to swiping, and saying you're thankful for the attention and that it's a blessing creates a joking rapport between you and your match. Obviously, you are not #blessed to link up with some random on Tinder.
But once you guys start messaging, you can play around and flirt about the power dynamic: "Actually, you should be thankful to match with me."
Plus, posting lyrics from the song could lead to a good opener. He might ask if you've seen that viral video of Justin Bieber attempting to sing "Despacito" in a club and flubbing all the lyrics.
Yikes.
2. "If You Want My Body, And You Think I'm Sexy, Come On, Sugar, Let Me Know."
"Da Ya Think I'm Sexy" by Rod Stewart is not only a song everyone knows, but it's bound to get stuck in your match's head.
Plus, it encourages him not only to swipe right, but also to let you know how he feels about you — whether it be that he thinks you're funny, hot, or have similar hobbies to him.
3. "Every Night In My Dreams, I See You, I Feel You."
I mean, who doesn't love the movie Titanic?
Celine Dion's "My Heart Will Go On" was the iconic song of the '90s. There is nothing more sappy than that movie or Celine Dion romantically crooning away in this video.
Don't worry about this being too cheesy. The lyrics are overly dramatic to the point of being funny, so featuring a song like this on your profile actually indicates that you have a good sense of humor.
Plus, maybe you can make a date to actually watch the movie together!
4. "If You Wanna Be My Lover, You Gotta Get With My Friends."
"Wannabe" by the Spice Girls is the perfect song to feature on your profile if you're interested in threesomes.
Essentially, you're saying, "Hey, if you wanna hook up with me, there are gonna be a few other people involved in the bedroom."
So if you feel awkward spelling that out with words in your bio, maybe it's best to let The Spice Girls say it with their song lyrics instead.
5. "Just One Look, And I Fell So Hard, Hard, Hard... In Love... With You."
An oldie, but a goodie.
Since online dating involves swiping based off first impressions, these are the perfect lyrics to describe the Tinder and Bumble experience.
Essentially, if you think a guy is hot based on your profile picture, you're swiping right on him, right? Just one look, and you're falling hard.  
So if you want to perfectly describe online dating using song lyrics, and you want to show off your knowledge of some cool oldies, then these are the song lyrics for you.
Are there any lyric suggestions you have for a dating app bio? Leave suggestions in the comment section!