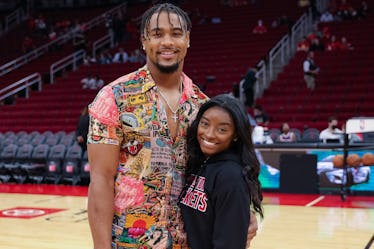 Simone Biles Is Engaged! Her Ring Is Trendy And Timeless
My heart is literally doing back flips right now.
Carmen Mandato/Getty Images Sport/Getty Images
Love is in the air! On Feb. 15, Simone Biles took to Instagram to reveal a happy life update: her boyfriend Jonathan Owens popped the question and she said yes. "THE EASIEST YES," she wrote. "I can't wait to spend forever & ever with you, you're everything I dreamed of and more! let's get married FIANCÉ 💍🥺." She posted a carousel of photos detailing the proposal, which took place in a sunny gazebo while they looked incredible in a black minidress and gray suit. Owens gave Biles a stunning oval-cut solitaire ring on a pavé band.
The Houston Texans football player appears to have proposed on Valentine's Day. On Feb. 14, the seven-time Olympic medalist posted an Instagram Story hinting that her boyfriend had something up his sleeve. "taking me somewhere 👀," she captioned a video of herself and Owens in a car, adding that she had recently come off a red-eye flight home to Houston, and she was "tired but he worth it."
Later that day, he posted a Story of their date at a spa, where he presented Biles with an arrangement of red roses that appears potentially half her size. The engagement announcement came the following morning. Congratulations to this athletic power couple!
Biles and Owens met over social media in March 2020. The timing of their meeting turned out to be important. As Owens told Texas Monthly in June 2021, "It was one of the few times in her life where everything was just shut off and she couldn't do anything. So we used it to get to know each other — really get to know each other. It created our bond and made it stronger. Now I'm so thankful."
Hilariously enough, Owens claimed to Texas Monthly that he had no idea Biles was the GOAT. "I didn't know who she was," he said. "I just hadn't heard of her, and when I told her that, that's one of the things she liked."
They took their relationship public in August 2020 by posting an adorable selfie on Instagram.
By the gymnast's birthday in March 2021, things sounded serious. "Got the hottest chick in the game wearin' my chain," Owens wrote on Instagram alongside a photo of Biles wearing a diamond chain featuring his first initial. "Wishing the happiest 24th birthday to my lady, I'm so excited for what the future holds for us and I can't wait to celebrate many more with you. I love you baby." (Ready for some serious cuteness? Biles wore the necklace on Valentine's Day 2022 when they got engaged.)
Although Owens was not permitted to travel to Tokyo to support Biles due to Olympic regulations, he sent his love from afar when she withdrew from the team all-around finals and the individual all-around competition.
"Imma ride with you through whatever baby," he wrote on Instagram in July 2021. "Your strength and courage is unmatched and you inspire me more and more everyday SB You always gone be my champ baby and don't you ever forget that, i love you so much and i can't wait till you come home and i get to see that beautiful smile again. You know I'm always here for you baby."
In response, Biles wrote, "I love you so much."
Just hours before they got engaged, they swapped Valentine's Day notes on Instagram. The football player wrote, "My better half ❤️ Happy Valentine's Day baby, here's to many more together 🤞🏽I love you so much ❤️❤️," hinting at a long and happy future together. Meanwhile, the gymnast captioned a pair of snaps, "money baby 🤑💕."
Now, there's just one question left: Will Biles wind up walking, vaulting, or flipping down the aisle?