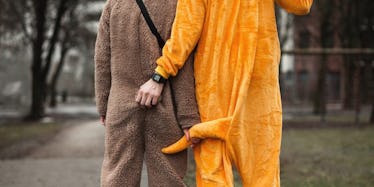 8 Silly Couples Costumes For The Couple Who's Just Super Goofy
Irina Efremova/Stocksy
It's that time of the year, folks — Halloween is fast approaching. That means you and your partner need to start planning your award-winning costume stat. But if you're anything like me, then that's what you always say, only to be scrambling last minute. Don't be one of those couples who end up going as another pair of lame "sexy" animals and regret it. Instead, why not use Halloween this year as a chance to let loose with a silly couples costume?
The truth of the matter is, there are only a few more fleeting years left before you start to get those accusatory sideways glances from middle-aged parents who think anyone over the age of 19 is way too old to be running around acting obnoxious and ruining the holiday for their children. Not that you should really care, but all the more reason to make these next few years of costumes really count.
One of the best and most liberating parts of Halloween is that you don't have to take yourself too seriously — making it the perfect opportunity to embrace yo' silly side. Check out these eight costume ideas that will give everyone a good chuckle.
1. Colonel Sanders And A Chicken
There's nothing sillier than a Colonel and his chicken. For the person dressing up as the Colonel, go all white, ideally a suit (although a dress shirt and trousers will work) paired with a red apron. Check out this Colonel Sanders costume how-to guide for more inspiration. Then, someone needs to be the chicken. It goes without saying that if you can get your hands on a KFC bucket — new or used — you're golden.
White Suit, $40, Halloween Costume | White Colonel Wig and Mustache, $15, Halloween Costume | Red Apron, $5, Amazon | Black Glasses, $9, Halloween Costume | Chicken Costume, $68, Amazon
Now, if you're looking for a way to really take this costume to the next level, might I also recommend one of you going as a cooked piece of crispy chicken instead of a living one? Perhaps a drumstick? Why not throw on a brown bodysuit and this hat?
Brown Body Suit, $22, Amazon
Still not enough? Then whichever one of you is going as the chicken piece should feel free to throw on a red wig — which represents a squirt of hot sauce, of course.
2. Tom Hanks And Wilson From Cast Away
Truly an iconic piece of cinema. This costume pretty much speaks for itself. The only question is who gets to be Wilson? And I'm sure it goes without saying, but don't forget the loincloth, makeshift head wrap, and FedEx box for maximum brownie points.
If you really want to get theatrical, then every 10 minutes, you can re-enact Wilson's death in slow motion no matter where you are. Enjoy.
3. Rick And Morty
White Lab Coat, $18, Amazon | Blue Color Spray, $9, Rickys | Mini Afro, $23, Amazon | Keds, $40, Amazon
Becuase who doesn't love this crazy grandfather-grandson duo? For Rick, you're definitely going to need a mint t-shirt and a white lab coat paired with some khakis. Now, remember, the key to any Halloween costume that stands out is the detail — so don't forget Rick's signature spiky blue hair, some greenish colored barf smears for Ricky, and even a liquor bottle for good measure. And maybe even a mini afro for Morty? Maybe it's just me, but I swear he looks like he has a mini-fro. Throw on a yellow shirt, jeans, and some Keds, and you're ready for some action.
4. Emojis
The hardest part about this costume is choosing only two. If you're looking for something super easy, then you can totally just make face masks on popsicle sticks. For my truly committed couples out there, then please feel free to amp it up with a fancy emoji harness. If you're looking to get really, really elaborate, then how about both of you go as the dancing girls in black... or dare I say, the salsa dancing girls in red?
5. Each Other
Another great couple costume idea for those of you looking for something super easy to put together. It's pretty self-explanatory: You throw on the other persons favorite outfit, a tacky wig, and boom — you're ready. Again, if you want to get really silly, then try spending the entire night as the other person and referring to each other as by your name. Sounds like the making of an interesting role play.
6. Animal Pals
Tiger Onesie, $40, Amazon
This is a great costume idea for couples who totally don't mind sweating up a storm complimentary onesies. You can choose to go as a famous animal duo such as Poo and Tigger, or came up with your own witty pair. Not to mention, Amazon has a surprisingly vast amount of adult onesies just waiting to be ordered.
7. Off-The-Grid Hippies
Fake Twigs, $11, Amazon
Still not easy enough? You could go as hippies. Just grab some shrubbery (real or fake will do), and wear your underwear on your head like hats. I guess the convenient thing about this couples costume is as soon as the clock strikes midnight and things start to turn up, you can just drop your sticks and resume your usual identities. No crazy smudged makeup or glitter chunks to get in your eyes mid-twerk.
8. Newlyweds
Really want to give your friends a fright? How about dressing up as newlyweds? After all, there's nothing scarier than a young couple's imminent divorce. Plus, getting your hands on some costume bridal-wear is totally doable in a crunch. If you want to go the classy, more endearing route, you could grab a real flower bouquet and use a couple flowers and some bobby pins to make a hairpiece.
Check out the entire Gen Why series and other videos on Facebook and the Bustle app across Apple TV, Roku, and Amazon Fire TV.