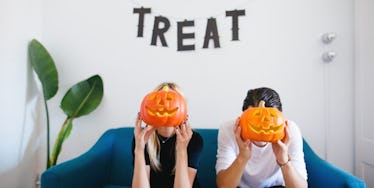 5 Hilarious Couples Halloween Costumes For The Couple Who Doesn't Take Themselves Seriously
BONNINSTUDIO/ Stocksy
You're in a couple, you're cool people, and it's almost Halloween. I'm going to go out on a limb and suggest that you maybe don't dress up as J.Snow and Danny. Nothing against Game of Thrones, but you're less basic than that. True, the incest makes the idea a little atypical/gross, but there will be countless GoT couples to costume-shame you. (Remember when everyone was Eleven from Stranger Things last year?) There are actual hilarious couples Halloween costumes out there, I promise.
I personally believe that a great costume is usually one part topical, one part well put together, and one part recognizable. Or, if it's not recognizable, it's at least very impressive when put side-by-side with the real thing in an Instagram post — hundo likes, guaranteed. Last year, I dressed up as Princess Charlotte playing with balloons. I ordered a children's school uniform from Land's End and put bows in my hair and literally no one knew who I was, but I did it for the 'gram (which was a hit).
If you and bae are chill human beings who don't take yourselves too seriously, and you want to have a LOLz costume this Halloween, here are some ideas:
1. Melania And Barron Trump
Because Trump himself is too basic (and horrifying) to dress up as. Topical and easy to put together, you and your SO just need to snag a shirt that reads "The Expert" like Barron wore on move in day at the White House. The other can dress in any fancy-adjacent outfit Melania would wear. If you are in a hetero couple, swap gender roles to make this even more fun.
2. The Hollyweed Sign
Remember when someone changed the "Hollywood" sign to read "Hollyweed"? That was fun, and so are you. This is a super easy costume that you and bae can make happen on the fly. Cut out some letters and pop them on a T-shirt. Your SO can be "holly," you can be "weed," or vice versa. I like this because I had almost forgotten about this silver lining to 2017, the year that trumped 2016's awfulness. (Pun very obviously intended.) Alternative idea: One of you dresses as the sign, and the other as Snoop.
3. Obama And Biden
The Joebama meme frenzy wasn't in full force until after Halloween last year — when we all realized how much we were going to miss our favorite bromantic leaders — so this is still relevant IMO. All you need are some suits, American flag pins, and the ability to look at each other longingly. Since you're in a couple, that last part should be easy.
4. Rick And Morty
OK, so I have to admit that I have not yet watched this show, but I can't stop hearing how darn good it is. Plus, the costumes look fun to make if you're the creative type. I feel like making Rick's spiky, blue hair work with some Aquanet and temporary hair dye would be awesome.
5. The Distracted Boyfriend Meme
Dressing up as the meme of the year requires you, your partner, and an equally chill friend (or blow up doll) in a red top. This is the costume that will win the internet when you side-by-side a picture of the three of you (or two of you plus doll) with the actual meme. You can probably find these exact shirts on Amazon, and add wigs as necessary. Caveat: I would not recommend this if you and your partner have had jealousy issues/your boyfriend is actually often distracted. (Side note: I really appreciate that this meme is called the "distracted boyfriend" and not the "jealous girlfriend." #2017.)
Again, I think the most clever, hilarious costumes happen when a couple capitalizes on something from the zeitgeist, then goes all in without taking themselves too seriously. Memes are clearly where my head is at, but any costume that involves two people and isn't Princess Leia and Han Solo (or Leia and Luke if you're not a GoT fan but you are still going for the incest vibes) is a good move. Remember, just because you are a couple doesn't mean you have to be basic. Oh, and definitely @ me with your hilarious costume ideas.
Check out the entire Gen Why series and other videos on Facebook and the Bustle app across Apple TV, Roku, and Amazon Fire TV.