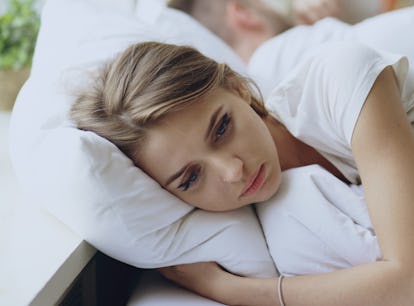 10 Women Weigh In On What To Do When Your Partner Isn't Invested Enough
You are worthy of love and respect.
Shutterstock
One of the pesky things fairytales and romantic happy endings don't quite warn you about is the potential that the person you've fallen for and started a relationship with may not love you back in the same capacity. While the thought of unrequited love draws up imagery of big, dramatic tales of heartbreak from movies and novels, in reality, it might look more like your partner just not being as invested in the relationship as you. So, what do you do if you get the sense that your partner doesn't love you enough?
"Make sure before you convince yourself it's the end, you've tried to fix the problems — effectively," Dr. LeslieBeth Wish, a nationally recognized psychotherapist and author of Training Your Love Intuition, tells Elite Daily. "Make sure you're not part of the problem and that you've spoken up about it. Then put your eyes on your partner: Has your partner really effectively tried to work on this problem?"
Before you decide to do anything about it, remember that it's incredibly easy to get stuck in your head and jump to anxiety-fueled conclusions that your relationship is doomed — "my boyfriend doesn't love me back" or "my girlfriend doesn't want to be with me anymore." But truthfully, the signs that your partner doesn't love you enough are nuanced, and every case is unique. Here's what 10 women on Reddit had to say about their different experiences.
Being patient, as well as truthful and open about your feelings with your partner, will help you figure out the right path. "It is never okay to just accept the bare minimum from someone; it's called settling," relationship expert and author Alexis Nicole White previously told Elite Daily. "Stand your ground and clear space for the real thing!"
At the end of the day, the most important thing is that your personal needs are being met. If they're not, and you have moments when you feel unvalued, always remember that you are worthy of immense love and respect. "Say to yourself, I am lovable," Wish says. "You've got to be able to say, 'I don't have to believe that. I don't need their approval in love. I can find it from within.'"
Love ebbs and flows, and levels of reciprocity might not always seem equal — even in the healthiest of relationships. If you're truly fulfilled and happy, you won't even feel the need to check the scoreboard for who loves who more.
Experts:
LeslieBeth Wish, clinical psychotherapist and author of Training Your Love Intuition
Alexis Nicole White, relationship expert and author
This article was originally published on