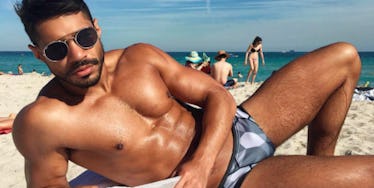 This Guy Is The Hottest Dentist Ever And We Have Lots Of Photos To Prove It
Instagram/Kadu Giacomini
Overtly gorgeous, burly men continue to push the point that men can have both brains and beauty.
While I've already been witness to smoking-hot doctors cuddling up next to dogs and an international chef who dangles his own eggplant way too close to our morning breakfast, it's a dark and handsome dentist who has me itching to get drilled.
Kadu Giacomini, a Brazilian native and regular on the Instagram scene, is currently living in Los Angeles where, when he's not putting his hands in people's mouths, he's walking around wearing barely anything at all.
Lord, have mercy. He may be the hottest dentist ever.
You see, on top of balancing a modeling career (because, you know, what else does one do with a face/body combination like that), Kadu is en route to becoming the hunky dentist we all wish we had growing up.
If you manage to browse through his photo array without whimpering aloud in pure ecstasy, you'll see that most of his latest art has his chiseled body on display.
I pride myself on a good smile, but I wouldn't mind chipping a tooth on that six-pack of his.
Most of his dentist-centric images are set back at Universidad Maimonides, which isn't too far from Buenos Aires.
Now, I'm not sure how many people Kadu has treated since making his way over to the US, but I envy every single patient he's asked to open wide.
Is it sanitary for a dentist to perform dental work wearing nothing but a low-cut, black-patterned bathing suit? What if he wears a mask?
Dear Kadu, I would be completely OK with that type of attire. In fact, I don't need any gas or Novocain whatsoever. I like a little bit of pain with my oral... surgery.
Below, find a few more visual reasons as to why dentists should be your new favorite profession.
Good to know he's a cake eater.
Did he forget what it looked like for a second?
All white works well for him.
Being ridiculously sweaty is just as good, too.
Even dentists need a day off.
I hope he wears that mask during sex.
OK, why are...
... his friends...
... so goddamn hot?!
Thank you so much, Brazil.
Now, if you need me, I'll be mopping drool off my desk.
Citations: Open wide… is this the world's hottest dentist? (Gay Times)