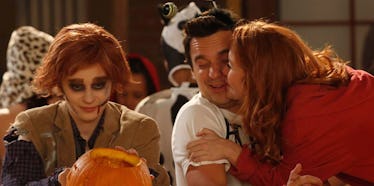 The Terminator Had A Threesome: 9 Of The Weirdest Halloween Hookup Stories
Elizabeth Meriwether Pictures
A weird hookup story is already great as is, but a weird hookup story on Halloween is THAT MUCH BETTER.
Why? Um, hello, people dressed as total idiots while getting wasted and hooking up with each other?! SIGN ME UP.
I mean, how could you not come out of such an insane holiday without something to write home about? The costumes combined with the alcohol makes for the perfect setting for some pretty epic stories.
Just to get you in the Halloween hookup spirit, I've collected nine juicy, steamy, sexy and just plain weird Halloween hookup stories from the ever so generous people of Reddit — as well as friends and Facebook followers — for you to peruse.
This girl just really wanted her ass slapped.
It was 2014 and I went to Pier of Fear, which is a Halloween rave in Hell's Kitchen. I ended up dancing with this guy for the whole night and (not soberly) told him to slap my ass... and he did. In public.
— Arielle, 22
Hansel and Gretel got a little incestual.
My good guy friend from my hometown and I were both blonde and petite, so we thought it'd be precious to dress up as two little rosey-cheeked German children, Hansel and Gretel. It was very fitting, since we had already convinced a ton of people that Freshman year at college that we were siblings. Spirits were high after winning the UV Blue at the Halloween Party, so we took it to the dorms to celebrate. One shot of alcoholic mouthwash led to the next, and... remember that scene when Joe Dirt fucks his sister? Went down like that, costumes still on, of course. It was the first and last time this little Hansel and Gretel duo got the goodies.
— Kelley, 25
This guy got frisky with his girlfriend in the bathroom.
Making out with my gf in the ladies room.
Minnie Mouse got her V-card swiped.
During my freshman year of college, I went to a halloween mixer with a friendly fraternity dressed as Minnie Mouse. The night started off benign, but I got drunk pretty quickly and before I knew it, I was walking home with a guy I had been flirting with all night (who wasn't even dressed up — what a killjoy). We went back to my dorm room, but since my roommate was asleep, I ended up taking him to the shared study lounge on my floor where we proceeded to hook up. Since I was a virgin, I asked him to stop and we fell asleep after a bit of hooking up. For some reason, though, I woke up at about 5 am and decided that I wanted this random guy to take my virginity. Fast forward to a few days later, and not only does this guy supposedly not remember taking my virginity, but my best friend has now also decided to start dating him, even though she knows what he's done to me. Talk about a night to remember.
— Shelbey*, 22
The Terminator pulled big time.
Had a threesome while dressed as a Terminator.
So did Waldo...
Threesome with two girls dressed as 'Where's Waldo.'
— Art*, 26
 One crazy girl in a kitty costume turned two friends into eskimo brothers.
This is the story I got from my first date with [a guy named] Sean. I got to meet some of his friends [on the date]. Anyways, his friend Matt told me how they met. It was Halloween night when Matt and his girlfriend were at a party. They snuck off into the bathroom, where she went down on him. She was pretty crazy, so while she was going down, she started shit with him and got extremely jealous. She took off out of the bathroom and that's when she ran into Sean. They hit it off and started making out. A few weeks later, Sean is hanging out with a group of people. They were talking about the party, and Sean started saying how he had met this hot chick and they just immediately started making out at the party. Matt said 'Oh yeah? Was this hot chick wearing a kitty costume with boots?' And Steve told him that she was. Matt then let Sean know what had happened about his girlfriend going down, then getting mad and about how she ran back to him telling him that she had just made out with some guy trying to make him jealous. ... So now, Sean knows how close him and Matt really are.
— Hanna*, 32
The queen was disrespected by her lover.
I was dressed as a queen (royal, not drag) for Halloween and ended up making out with this guy at the bar. He told me he liked my 'princess' costume, and I got SO offended. I told him that I was actually a queen then proceeded to storm out of the bar.
— Jennifer*, 23
A Teenage Mutant Ninja Turtle found everlasting love.
I made out with a guy dressed as a Teenage Mutant Ninja Turtle at a weird frat party, and now we've been together for two years. College!!!
— Ansley*, 20
And on that positive note, let's go forth and try to find LOVE this October 31st! Happy Halloween, mofos. Stay spooky.
*Name has been changed.