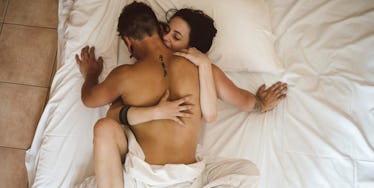 'Half-Night Stands' Are The New 'One-Night Stands' Because Your Own Bed Is Better
Move over "Ice Cream Stand" masters and pegging aficionados. There's a new sex trend in town taking the world by storm.
"Half-night stands," the abridged form of a one-night stand, still involves you gettin' yours, but instead of waking up the next morning full of regret in your hookup's bed, you escape in the middle of the night immediately post-intercourse.
This craze is the next step in a "hit it and quit it" mentality, tacking on to commitment-less sex by avoiding the sloppy aftermath altogether.
"If you don't want anything more than sex, what's the point of staying overnight with a stranger? It's just easier to go home so you can sleep in your own comfortable bed, wake up and start your day fresh," sex therapist Celeste Hirschman said to Huffington Post.
As one accustomed to laying starfish in my queen-sized fortress, no matter what time of day it is, you can bet I'm a fan of using all that space just for myself.
Sure, cuddling is great and all, but if most of my weekend decisions are made with a boner, I'm just looking to get off and get out.
Max DuBowy, a Portland life coach and millennial like myself, agrees that today's dating app "swipe culture" has trained us to move from hookup to hookup at a quick, steady pace. We know what we want when we want it, and we're not looking to get invested.
"Sex is simply an activity," he said to Huffington Post. "Love is intimate and deeper. It's easier to move on after getting it on since love usually isn't part of the experience until you're in a committed relationship."
But sometimes, that overwhelming feeling of super horniness gets the best of us. If you repeatedly hook up with the same person, feelings can develop.
That's why it's always important to establish that you intend to not stay over from the get-go.
"Be sure to tell the person you're going home with that you can't spend the night before you actually get to their home," said psychologist and author of "Dr. Seth's Love Prescription: Overcome Relationship Repetition Syndrome and Find the Love You Deserve," Seth Meyers. "Or that you have an early morning so you'd prefer they not stay over."
Just a few weeks ago, I found myself stumbling out of a bar and into an Uber to meet up with someone I'd gone out with a few weeks prior.
It was early enough that I established, no matter what went down, my intentions were to meet up, hook up and then return to my friends without looking like a mess. He obliged and, frankly, knew what my intentions were.
We weren't trying to get married. We just wanted to touch each other a little.
And that we did, but I think I'll have to save that for another story.
Citations: There's A New Trend In One-Night Stands (And You're Probably Doing It) (Huffington Post)