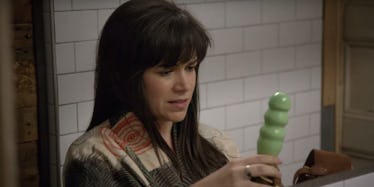 How To Convince Your Boyfriend To Agree To Pegging
Comedy Central
Pegging is all the rage, especially since that one episode of "Broad City" where Abbi pegged her hot neighbor. Now, everyone is pegging!
Why? Probably because pegging is awesome. It's the spice your sex life needs. (If you're not up on the hottest spring sex trends, pegging is when a woman anally penetrates a man, usually with a strap-on.)
You guys, I want to peg so badly. I want that kind of power, the power one can only have from having a dick. Don't you want to know what it's like to really F*CK SOMEONE?! I sure do.
I tried to convince my boyfriend to try pegging. He PROBABLY would have said yes if I weren't a writer for the Internet. I'm a master negotiator, and he's also a fearless sex demon. God love him.
Anyway, I made a really handy how-to guide so you can convince bae that pegging is definitely something he should agree to try. Here we go: the dos and don'ts of getting your boyfriend to agree to let you peg him.
DO: Talk about culturally relevant things. DON'T: Tell him all your friends are doing it.
It's totally OK to bring up that episode from "Broad City." In fact, I encourage you to do that. Say something like, "Boo, all the guys are letting their girlfriends put it up their butts. It's even happening on TV!"
You want to NORMALIZE the pegging. You want to make it THE COOL THING to do. You want to make him feel SAFE and comfortable. This may sound manipulative, and that is because it is. We're talking about your boyfriend allowing you to shove it in his rear, so the time for mind games is now.
When you let him know that other people, even people in the mainstream media, are trying this "new" and "cool" thing, he's going to want to try it.
Do not start giving him the nitty-gritty details about how your best friend Melissa rams her boyfriend up the assh*le with an eight-inch dildo. That will scare him. He might want to think about Melissa's boyfriend f*cking Melissa, but he certainly doesn't want to imagine him being porked by a strap-on.
Stick with television so that you can glamorize the pegging. Who doesn't want to keep up with what the people on television are doing?
DO: Say you want to be a sexy dominatrix. DON'T: Talk about feminism.
Anyone who knows me knows that I love talking about feminism. I am a die-hard feminist.
But, as it turns out, there is a time and place for talking about feminism, and that place is not when you're trying to get your boyfriend to let you penetrate his ass with a dildo. Go figure.
Skip the talk about women's empowerment for now. Don't make this pegging thing about showing your dominance over him in a political way. You have to accept that if you're going to convince your boo thang to peg, you have to make some concessions. So ditch the wage gap talk for today.
Instead, talk about how sexy it will be to be a hot dominatrix. Tell him how you want to own his ass and make him your slave. Make this whole experience HOT. Discuss black leather. Buy a crop when you buy your strap-on.
Which brings me to my next point …
DO: Buy a friendly strap-on. DON'T: Bring your SO along for the purchase.
Now, if you can get bae to sign off to your plan, you have to buy a fun and accessible dildo. You should go to a real sex toy boutique. Don't go into one of those creepy, seedy sex shops in Times Square with the headless, naked mannequins and plastic windows. No, you need to go somewhere nice like Babeland, ya noobie.
Do not buy your strap-on online. You don't know WTF you're doing. You need f*cking assistance, OK? The people at Babeland, Please and other nice, WOMEN-OWNED sex toy boutiques are really nice. They want to help you!
Make sure you specify that you don't want a lifelike dick-looking dildo. You want one that DOES NOT look like a dick. Pick something in a fun color, like purple or blue. You want your BF to feel OK about the dildo.
Straight guys are weird, man. They think anything they do is gay. So, don't make him feel like you grew a dick and are now f*cking him with it. You feel me?
DO: Make him think it's ultimately his idea. DON'T: Tell him you're going to write about it for the Internet.
The male ego is similar to that of a 13-year-old girl. Men like to feel "in control." While this is stupid, you have to play to that ego if you're going to get him to give the green light on booty access. Make him think this is HIS idea.
Start dropping hints about it. Start talking about how hot it is. Ultimately, let him decide this is something he could get into.
A "writer friend of mine" (who is definitely not me) made an egregious error when it came to the "to peg or not to peg?" issue. It cost her her pegging rights. Her boyfriend told her he'd be down to peg … and then SHE TOLD HIM SHE WAS GOING TO WRITE ABOUT IT ON THE INTERNET. It was a mistake that will forever haunt her until her dying day.
DO NOT DO WHAT SHE DID. Your boyfriend will not let you f*ck him if you say you're going to TELL PEOPLE about it. HEED THIS OMINOUS WARNING. Pegging is private. "My friend" learned the hard way.
Be sure to sign up for Gigi's newsletter for the latest in love and sex.