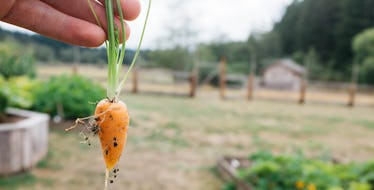 Man With A Micropenis Chronicled His First (And Only) Sexual Experience
As a woman, I have no clue what it's like to have anxiety over penis size.
But reading this man's deeply personal account of what it's like to live with a micropenis makes it impossible to ignore how much it matters to men, even if some women say it doesn't.
Ladies, have you ever said, "Size doesn't matter"? I'm sure some of you have, and I have as well.
Apparently, 1 in 200 men have micropenises. The average flaccid penis is 2.8 to 3.9 inches, and the average erect penis is 4.7 to 6.3 inches, based on recent studies. 
The 35-year-old man, who wrote the piece anonymously, first tells us that his penis is 1 inch when flaccid and just under 3 inches when fully erect.
He describes it in detail:
It is also very thin. When flaccid, you might say it resembles two raisins flat on top of each other. As it extends erect, I would guess that in length and girth, it would be the equivalent in volume of two cocktail sausages.
I have never encountered a micropenis, but I can imagine that other women who do try not to mention it or just keep a poker face.
And according to this Buzzfeed article in which 14 women talk about their experiences with them, guys who know they aren't well endowed have developed other skills to please their partners. It doesn't have to be all about the D.
But, it doesn't matter how many girls out there say they're accepting of guys no matter the size because this man couldn't ignore what he had heard.
I am deeply ashamed of my micropenis, and that is largely because of things I hear women say about it. I can only speak from personal experience, but the number of times I have heard women making fun of men for the size of their manhood is staggering.
Unfortunately, a common diss aimed at men would refer to their penis size.
We see it in the media all the time. I mean, did you not see that naked Trump statue with the tiny penis?
I even feel like a good chunk of jokes on "Sex and the City" also referred to penis size. (Let's not forget the "small dick" episode.)
This man told the story of the only sexual encounter he'd ever had, which was with an "attractive" girl he knew. It happened over 12 years ago, and he hasn't had sex since.
She had to suppress a giggle when she saw his micropenis, and afterward, she was left unhappy and unsatisfied, according to the author. When he was actually penetrating her, she kept asking him, "Is it in?"
Wow, poor guy. It seems like one negative experience ruined his sex life — maybe even for good.
Following this one encounter, the man was so ashamed that he trekked to where she lived to leave her a small gift of chocolate because he felt so bad about not being able to satisfy her.
He writes,
I walked 2 miles to her apartment to leave her a box of Nestle Mint After Eights, which I had bought to show both appreciation for her intimacy and also as an apology. What kind of loser does that? What was I thinking? [...] I couldn't help feel like she deserved better.
Obviously, penis insecurity can run so deep that it affects a man's life in a major way. For this man, it affects him so much that he doesn't try to look for love because it will give him more anxiety and depression than he already deals with secretly on a regular basis.
Ladies, how would you react to a micropenis? Would you have to suppress a giggle like the girl this man was with? Or, would you be accepting and open-minded?
I honestly can't believe this girl he was with would be so insensitive to laugh at him, when penises size is a sensitive issue for literally all men, no matter how big or small.
Citations: I'm Tired of Being Ashamed of My Micropenis (Cosmopolitan)