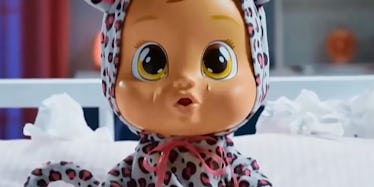 People Are Saying This 'Cry Babies' Doll Sounds Like It's Moaning In Pleasure
Youtube
In a seemingly unending tradition of inventing creepy children's toys, a new Cry Babies doll from IMC Toys is on blast for making what sounds to be very adult sex noises.
One British mom, Gail Turley of Aberdare, Wales, told Wales Online she recently bought the doll for her 2-year-old daughter. It was the one Christmas present her daughter wanted.
After purchasing the doll on eBay, she tested it out before wrapping it up as a gift and was shocked to hear the rather adult (and weirdly accurate, sexually speaking, that is) moaning sounds coming out of the toy.
See for yourself in the video below:
Whether or not you agree the toy sounds like a grown woman getting down and dirty, we can all agree it's definitely NOT a crying baby, right?
On Amazon, the product description states,
Poor little Cry Baby Lea! Give her the dummy and a cuddle to stop her from crying. She cries real water, makes baby noises and come with a special packet of tissues for mopping up those tears! For more play fun, arms and legs are movable. She also comes with her own changeable animal print onesie!
I don't know. So many exclamation points makes me uncomfortable and gives me the sense this toy company is trying too hard to make up for something... like weird, erotic behavior that's disorienting and upsetting when paired with a child's toy, perhaps?
Of course, Turley is now on the fence about whether or not to gift the doll to her daughter, and other parents have admitted to returning the toy after hearing it's erotic moaning as well.
In the reviews on Amazon, one person describes the noises as "dodgy porn star" vocals:
I mean, I would be freaked out too if my kid's doll was making sexual noises.
Then again, some kids and their parents don't seem to notice what all the fuss is about. Like this one reviewer on UK toy site, Smyths Toys:
So, maybe this is a case of you hear what you want to hear?
Citations: Welp, This Child's Baby Doll Toy Is Definitely Making "Sex Noises" (Cosmopolitan), Mum shocked after doll she bought for her daughter makes 'sex noises' (Wales Online)