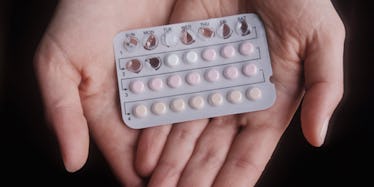 This Birth Control Is Being Recalled Due To A Pretty Big Packaging Error
Raymond Forbes LLC
What kind of birth control are you on?
If the answer to that question is Mibelas 24 Fe, you might have some cause for concern.
Packs of the popular oral contraceptive are being recalled as a result of a recent packaging error.
Cosmopolitan reports that the recalled set comes from Lot No. L600518, and the pills expire on May 31, 2018.
What is this "packaging error," you ask? Well, it's kind of a pretty big error.
The manufacturers accidentally flipped the packs upside down, making the placebo pills that you're usually supposed to take at the end of your cycle the first set of pills you take.
So... why is that a BFD?
Well, because taking your pills out of order can sometimes result in pregnancy, which, you know, sort of defeats the whole "taking birth control" thing.
Furthermore, the placebo pills are just sugar pills, so it's essentially like you've just skipped the entire week of hormones you're actually supposed to be receiving.
Plus, your risk for pregnancy also increases the more pills you forget to take at the beginning of a birth control pack.
Despite this risk, no unplanned pregnancies have been reported yet as a result of the mishap.
The FDA highlights the fact that, if an unplanned pregnancy were to occur as a result of the error, there are more issues that could come along as a result of it.
Unintended pregnancies can be fatal for certain women and harmful to the fetus if the woman continues to unknowingly take medication that may cause birth defects.
The birth control was already distributed across the country to pharmacies, clinics, and wholesalers when a consumer noticed the error on her birth control package.
Lupin Pharmaceuticals has since recalled their Mibelas 24 Fe Tablets.
According to the announcement from Lupin,
These products are packaged in blister packs containing 28 tablets: 24 white to off-white tablets of active ingredients debossed with 'LU' on one side and 'N81' on the other; and 4 tablets of inert ingredients debossed with 'LU' on one side and 'M22' on the other side.
If you get your birth control in individual packs, the National Drug Code to look out for on your pack is 68180-911-11. If you get yours in packs of three, the code to look for is 68180-911-13.
If you notice that you've been taking these pills, contact your doctor or healthcare provider immediately and return them to your pharmacy.
You can also reach Lupin Pharmaceuticals directly with any questions you may have regarding the recall at 1-800-399-2561, 8 a.m. to 5 p.m. ET, Monday through Friday.