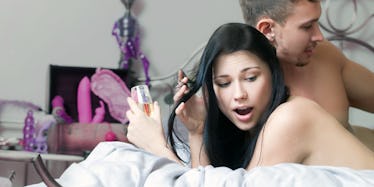 11 Bizarre But Brilliant Sex Toys You Won't Believe People Are Buying On Amazon
fotolia
When you make your list of things to buy on Amazon, it might include books, kitchen tools, or beauty products. It probably doesn't include a wide array of sex toys. But it should! Amazon might be known for their extensive novel selection or their variety of Korean beauty products, but Amazon gets pretty freaky.
The nice part about ordering off of Amazon is it's a site you probably already use, you know the shipping is legit, and you won't have to walk into a store to ask about their finest selection of double-sided dildos. It's a great opportunity to open your eyes to the wonderful world of sex toys from the comfort of your own home.
Trust me, you won't be the only one looking. Amazon has a lot of popular sex toys that go way beyond your average bullet vibrator. Some of these products might seem pretty bizarre, but people are buying them. Perhaps it's time to try something new — these bizarre toys just be the thing to hit the, uh, spot.
 1. A Vibrator That Keeps You Hot — Literally
Do you always have a chilly vibrator? Well, no more with this heated sex toy.
This vibrator has seven speeds and is made of non-toxic, body-safe silicone. Whether you use it for your clit or G-spot is up to you, but the real exciting part is the heating function. It keeps the temperature steady at about 104 degrees, so it'll stay hot while you get there too. If 104 degrees sounds like a lot, remember our body runs at about 97 degrees, so it's actually a pretty comfortable temperature. Plus, if it's just really cold in your apartment, you can use it to warm your hands.
2. A Kit To Make A Penis Clone
Hey, it's hard to find a good penis nowadays, so when you get a good one, you might as well keep it around. I don't mean you have to marry the person, but you could make a copy of their dick with this cloning kit.
Don't be scared, there are no stem cells involved or anything. You just make a mold of your favorite wiener (mold supplies are included in the kit), then fill the mold with this hot pink, non-toxic rubber. You can make it a dildo or vibrator and there's even a handy DVD to show you exactly how to make the best penis possible.
3. A Magic Wand For Masturbation
Close your eyes, make a wish, and shazam!  The orgasm of your dreams has arrived.
OK, that might be a bit of an exaggeration, but things are probably going to get pretty magical with this crystal wand dildo. It can be used heated or cold and the glass is very sturdy, so you don't have to worry about breakage.
Now you can feel like X-rated Tinkerbell when you get off with a wave of your new magic wand. (Well, a wave motion might not really work, but you get what I'm saying.)
4. A Cock Ring That Makes You Feel Like A [Nut]
Cock rings always come in that boring round shape. Why can't we make the peen a little more fashionable? This hexnut ring has all the stretch and stamina power of a regular cock ring, but you get this cool (and kinda hilarious) hexagon shape.
I know I always look for a bit of construction play, so now my "Where can I find a bolt for this nut?" line will actually work.
5. A Handy Lube Applicator With A Hilarious Name
Sadly, the Lubricant Launcher is not an adult version of a super soaker. Instead, this tool is an easy way to apply lube to the anus or vagina. The lube gets in deep and it's mess free.
6. A Vibrating Strapless Strap On
I'm not sure if you can still really call this a strap-on since it has no straps, but this dildo doesn't need straps to get the job done.
It vibrates, stimulates the wearer, and gives you six inches of insertable material. The body-safe silicone has a bit of give without going too soft. Plus, you don't have to worry about straps coming loose and dildos dropping off.
Hands-free, strap-free, this dildo doesn't mess around.
7. A Bolo Tie For A Penis
If you've got a western theme in your bedroom, it can be so hard to find sex toys to match your decor. But this bolo tie cock ring will fit into any southwestern scheme.
The good thing about this tie is that it's fully adjustable, so you can use it with as much or as little pressure as you like. Made of soft silicone, it won't cut into skin, but is durable enough to last. If you're into cowboy role play, this is a must.
8. A Massager That Turbo Powers Your Fingers
Though this double finger massager looks like it might control the visual aids of a future TED talk, it's actually one of the best sex toys.
Now, this is classified as a "massager," which is usually code for sex toys for people who don't want to put anything called a vibrator on their credit card. And it really can be used to enhance a body massage. Of course, it's also a vibrator to bring joy to your private parts — this is a sex toy list after all. The targeted vibration at your fingertips enhances foreplay and keeps you connected to your partner.
9. A Vibrator For All Your Erogenous Zones
Butterfly Kiss is a kind of misleading name for this powerful vibrator. When you think about butterfly kisses, you think of the gentle touch of an eyelash or a grating country song. But this vibrator delivers pleasure for your clit, G-spot, or through penetration.
It's waterproof, has three speeds to vary your pressure, and the butterfly fluttering action stimulates the clit to give the term "butterfly kiss" a new X-rated meaning.
10. A Clear Tube To Stretch The Testes
I'm still relatively new to the world of sex toys, so I didn't know that testicle stretchers even existed. But as it turns out, the gentle tugging sensation provided by this clear, stretchy silicone tube can increase sensitivity around the balls for heightened pleasure.
11. Body Paint You Can Lick Off Your Partner
Express your artistic side in bed with these edible body paint pens. Draw a picture on your partner, then enjoy the fine fruity flavors of your artistry. Application is easy and mess-free, so you won't get paint all over the place as you enjoy the green apple, cherry, strawberry, and blue raspberry essence.
Hey, you could even get really meta and draw a graffiti penis on an actual penis. Now that's art.
Elite Daily may receive a portion of sales from products purchased from this article, which was created independently from Elite Daily's editorial and sales departments.