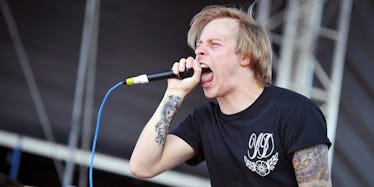 This Singer Stopped His Show To Call Out Sexual Assault, Sending A Really Powerful Message
Shutterstock
Concerts are supposed to be places where you can hang out with your friends, listen to your favorite music, and generally have an awesome time. What they are not supposed to be are places where sexual assault occurs. Sam Carter from Architects, a British metal band, knew this when he literally stopped his show at the Lowlands Festival in Biddinghuizen, the Netherlands, on Friday night to address a sexual assault he witnessed in the crowd.
In his impassioned speech to the crowd, he said:
I've been going over in my f*cking mind about whether I should say something or not about what I saw in that last song. And you know what? I'm gonna f*cking say it. I saw a girl, a woman, crowdsurfing over here, and I'm not gonna f*cking point the piece of sh*t out that did it, but I saw you f*cking grab at her boob. I saw it. It is f*cking disgusting and there is no f*cking place for that shit.
SO. MUCH. YES.
After Carter's speech, the crowd wildly cheered in support of his message. Then, he continued, "It is not your f*cking body! It is not your f*cking body! And you do not f*cking grab at someone! Not at my f*cking show!" He finalized his speech by encouraging anyone who wants to sexually assault someone to "f*ck off and don't come back."
If you want to witness this epic moment for yourself, NPO 3PM, a Dutch public radio channel, posted the entire speech on Twitter.
Over the years, there's been lots of conversation surrounding the rampant sexual assault that occurs at concerts and music festivals, so the fact that Carter decided to speak out when he witnessed it sets an incredible example for artists and concertgoers alike. It should hopefully encourage artists to be more cognizant of their crowds and speak more openly about sexual assault, and encourage concertgoers to understand that sexual assault, even during something as fleeting as a crowd surf, is never, ever OK.
If you're ever sexually assaulted a concert or a music festival, do not keep it to yourself. Tell someone. Nobody deserves to be a victim of sexual assault in a place where they just want to have good f*cking time.
Check out the "Best of Elite Daily" stream in the Bustle App for more stories just like this!