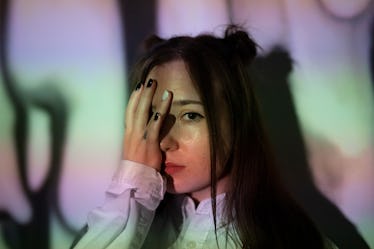 These 12 Sad Love Stories From Real People Will Shatter Your Heart
Dennis Aglaster / EyeEm/EyeEm/Getty Images
Love stories don't always have a happy ending. You might fall for someone who doesn't return your phone calls or dates your best friend or simply doesn't feel the same way you do. DW, heartbreak won't stop you from moving on and pursuing new relationships. But before you get a happy fairytale ending, there's a chance you'll collect a sad love story or two along the way. Sorry to be a downer, friends, but it's true. A sad story is sometimes the best love story.
The end of a relationship doesn't necessarily include betrayal and big blowups. Sometimes, a relationship reaches a quiet conclusion, which can be even more painful than a messy split. People move away, change their priorities, find new careers, and — on the path to finding themselves — they may find their partner doesn't fit into the equation.
Though losing a lover can be an isolating experience, it might make you feel better to know that you're not alone. I came across an AskReddit thread inviting Reddit users to share the most heartbreaking story from their love lives, and hundreds of brokenhearted people replied with their tales of love gone wrong. I hope you have some tissues handy because these sad stories might just make you ugly cry.
Every happy love story probably involves encountering some form of heartbreak along the way. Just remember this: You're not alone in your pain, and you're not any less deserving of a happy ending. The more painful the heartbreak in your past, the more satisfying true love may be when you find it in the future.
Editor's Note: This story has been updated by Elite Daily Staff.
This article was originally published on