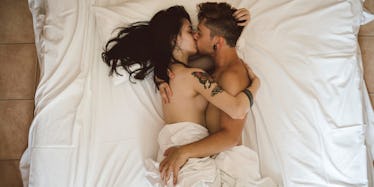 The Repeat Customer: 4 Reasons Why A Consistent Sex Partner Is The Best Partner
The Repeat Customer is the foundation of business itself. You provide a quality, satisfying product and/or service, gaining loyalty and free marketing. This not only increases the margins of your business, but also the range and diversity of your clientele.
Most businesses are completely dependent on gaining repeat customers. They entice you, charm you and sign you up for memberships and contracts, but ultimately, you go back because you want to. Using this approach in both business and networking can be productive and lucrative.
I also apply the repeat customer mindset to my sexual and romantic life.
We all have one thing in common: sex. We want it; we need it and we all have it. The difference is just with whom, how often and under what circumstances.
Many of us turn to one-night stands, casual encounters, or the classic f*ck buddy approach; whereas, others take the traditional route of a committed relationship in which (hopefully) sex is a common occurrence.
Whatever your approach or situation may be, I offer you the same piece of advice: Aim for repeat business. There are many reasons why I use this approach:
Better Sex
The more times you have sex, f*ck or make love, usually, the better it gets. Why would you not want consistent sex to continually improve? I find that it's the second or third time that both parties enjoy the most.
Comfort levels have increased, passions are high and you begin to be more in tune and in rhythm with one another. After all, the shared motive is sex, so why not make it good?
Word Of Mouth
The last thing you want is a bad reputation. This can be fairly easy to achieve, however, if you are an assh*le.
It's a small world and I would rather have good things said about me than negative -- especially when it has to do with the most intimate actions in which a man and woman can participate.
Confidence
Good and comfortable sex should leave both participants feeling more self-confident. Being able to walk around naked in front of your sexual partner or taking a shower together illustrates levels of comfort not only with one another, but also with ourselves. This confidence is then carried over into everyday life.
The Future
You never know when, why or how your paths will cross again after your fling is over. It could be in a business environment, or you could end up dating a friend of him or her unknowingly. Whatever the situation may be, it's always better to leave things on a good note.
If he or she speaks highly of you — or at least thinks fondly of you — it will go a long way. Also, if you see this person again, it won't be awkward if you're able to keep things positive. Who knows, you just may get a text later asking to grab a drink.
Don't treat sex like a business transaction; even casual sex should be more than that. Sex is the business of social transaction, so do good business and be damn respectful.