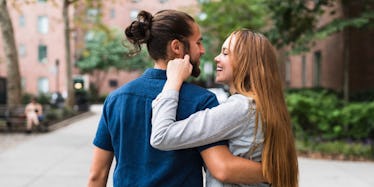 These Realistic Resolutions Are What You Need To Improve Your Relationship in 2017
Stocksy
Maybe you want to keep a current relationship going strong or you're just starting out with a new love. Maybe 2016 wasn't a great year for you two, and you want to start over.
Really, no matter what your relationship is currently like, the new year is a perfect time to make a relationship resolution.
These are some of the resolutions couples should consider making for 2016: practical, realistic and worth keeping.
Couples that play together, stay together.
Sure, after work, gym and errands, you're beat. You naturally end up settling on the couch together for some Netflix -- and that's fun, sometimes.
But you should take time out from your busy schedule to do things together you both love. Whether that's rock climbing, trekking, dance classes, yoga, power training, hiking or a romantic weekend away once a month -- do it!
These adventures and activities will help the two of you bond more as you develop new inside jokes, share special experiences and push yourselves to each be better.
Indulge in humor.
When you see a couple deeply in love, chances are you've noticed they laugh often and crack jokes together. Humor helps with relationship longevity and also eases the stress and tension of daily life, too.
Hone your listening skills.
Hearing your partner out is one thing, but listening to them actively is another. Don't underestimate the power of listening. It helps you understand one another better, and makes your partner feel they can count on you more.
Keep that phone away.
We are so involved in our smartphones we forget the smartest thing to do is to talk to our partner when he or she is around.
Put that phone away for now, and let your relationship take priority over scrolling through Instagram or playing Angry Birds. This is a sign of respect, showing your your SO you really care and are listening.
Give each other little gifts and presents.
By gifting, I don't mean bestowing your boyfriend or girlfriend with anything elaborate. A gift can be as small as a book that caught your eye or a muffin from a favorite bakery. It's just a nice little way to demonstrate your love and affection.
Leave a love note for the day.
Sometimes, it's just nice to know someone's thinking of you. There's no need to write a lengthy letter or send 365 letters "The Notebook" style, but a few sentences will make your SO smile and brighten up their day.
Give space.
I cannot emphasize this enough. Would you like someone breathing down your neck around the clock? Didn't think so.
Give some space and let each other breathe. If he or she hasn't replied yet, maybe it's because of work or an important meeting. Wait for the reply -- don't feel like you have to constantly force it. Everyone needs some time to themselves to refresh.
No matter what state your relationship is currently in, try making a resolution to enhance it this year. No couple is perfect, and that's OK -- but that doesn't mean we shouldn't try to improve if we can.