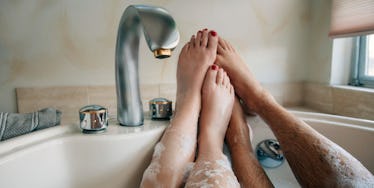 10 Tips For Fuelling Your Relationship With Creative, Mind-Blowing Sex
by VERONICA PAMOUKAGHLIAN
Carolyn Lagattuta
Nobody teaches us sex. They teach us contraception and how the body works, but nobody teaches us about pleasure and fulfillment. Only our partners can teach us, which makes the whole thing a gamble.
Before I met the man who was my perfect fit in every possible way, I thought I had chemistry with men. With him, I discovered an endless array of possibilities, not because he was "teaching me" things, but because of the way we connected.
Now that we are no longer together, it has been the hardest thing to decide to open up to someone new. I fear no one can measure up to the degree of intimacy we share. However, I have come to realize that many of the things we did to keep things exciting in the bedroom (and elsewhere) are things I might be able to do again in my next relationship.
So, here are 10 ideas you can apply to your own love life:
1. Lose your inhibitions. All of them.
In my previous relationships, I didn't do or say everything that crossed my mind during sex. Rule number one of mutual pleasure is speaking out. Sometimes your partner is doing things wrong, but you are afraid to hurt their feelings.
Don't be. And don't sugarcoat it. A person who loves you will be psyched about pleasing you, and any information you can offer that can steer them in that direction will be more than appreciated.
2. Mind your own pleasure.
Intercourse alone is not going to send you to the moon. 90 percent of the time when we were having sex, in all its possible variations, my clitoris was being stimulated orally or manually by either my ex or myself. I would have countless orgasms, which would excite him even more.
There is a question on OKCupid, "Is orgasm the most important part of sex?" All men answer, "No." I presume it's because they think women enjoy foreplay more. But there is nothing like a shared orgasm to unite you with someone you love. So, stop faking those moans when he is coming and get to work to have a real orgasm.
3. Get a wig, a new name and do something outrageous.
I have published some erotica under a pseudonym, and when my publisher called me to go on a book tour, I decided my alter ego needed to look different from me. So, I got a sexy brunette wig. I did some readings around California and was complimented on my hair a lot.
When I got back home to Seattle, I took my alter ego on a date with my boyfriend. We went to the Rendezvous Lounge and acted like we had just met. This led to some of the hottest sex we've ever had. True, there is a point in the sexual acrobatics when you need to take the wig off. But by then, it really doesn't matter.
4. Watch a Tinto Brass film
Traditionally, men used to love porn and women hated it. But this is 2016. If, like me, you are appalled by the misogyny in porn and the closeups of things you don't really want to see, try watching a Tinto Brass movie like, "Cosi Fan Tutte." These movies have great cinematography, and they stage fantasies women can appreciate.
The most important thing here is finding a film you both enjoy. In a previous relationship with an Italian man, I was disgusted when he tried to play some of the porn he enjoyed during a sexual encounter. But with the right person and the right film, erotic cinema can be bliss.
To be fair, in my love story, I was usually the one watching while my boyfriend was otherwise entertained with some part of my body, but I suppose it can work every which way.
 5. Invite someone in.
So, I have never done this. We broke up before we got around to doing it. But in my next relationship with a sexy, openminded man, as soon as I feel safe that no one else can come between us, I plan to open up my boudoir to a worthy individual.
A threesome is a delicate thing, and I don't recommend it for those with low self-esteem or an insecure bond. I certainly don't recommend it when one of the partners is doing it to humor the other one. But if the stars align, it can be lots of fun.
6. Location, location, location.
After a screening of "Nymphomaniac" one Seattle spring, me and my former partner went out to Lincoln Park. It was not planned. It was a spur-of-the-moment thing, but I will never forget his words about the way my naked body looked against the trees in the moonlight. It must have been a full moon kind of night.
There is nothing you can do inside a bedroom that can top that. We have also made love by Rattlesnake Lake, a crystalline body of water by a lush green hill, and in many other places. So, maybe it's illegal, but the trees are your allies. We were always looking for secluded spots to enjoy each other in nature. There is just something about it. Insider's tip: Beware of poison ivy.
7. Lingerie rocks.
Before we met, I had only occasionally owned sexy lingerie, but I was inspired by our encounter. Long, black, satin gloves, red fishnets with purposeful holes, my milanesa maid costume (I would wear it every time I made breaded chicken milanesas), corsets, thigh-high socks, my clear raincoat, garters, my geisha outfit. I have all of these tools in my arsenal.
Go on Amazon. It's so fun to shop for this stuff. When my boy came back home from work (I freelanced at home), I was always wearing something special. There was always a plan for something amazing. I did this every single day, and so can you. If you have kids, it will probably be a bit different. But if you don't, there is no reason your every night can't be like a scene out of a Tinto Brass movie.
8. Go gourmet.
I love cooking, so that was a big part of our foreplay every night. I would make something really special, pair it with great wine, set a nice table, the works. But again, this is 2016. So, maybe he is doing the cooking in your dynamic.
A microwaved dinner is not the stuff of erotic nirvanas. Whether you cook it, order it or have a friend make it, food is an important part of love. Feed your body with culinary pleasures, and your appetites will never stall.
9. Do it with words.
Words are everything. What you say to your partner — what you write to them, what they write to you — is the source of all pleasure and joy. Kind, exciting words, unique words and words you've never heard before are all vital. My ex and I are both writers, so we were always fueling our love life with words, but you don't need to be a literary type to put this into practice.
Read interesting things to each other, listen to music with amazing lyrics together. Try anything, but above all, mind the power of words. Your texts, emails, the sexy photos of yourself in your WhatsApp messages, they will result in a level of desire that will only give you and your partner endless joy.
10. Create erotica of yourself.
Dress up; take good pictures of yourself with good lighting; show your partner what they most like about you. Drive them wild with pictures of their favorite parts of you when they're at work, and then, observe the results.
I love being desired. Of course, not everyone is the same, but the best advice I can offer after having had mind-blowing sex every single day for a couple of years is this: You have to fall in love with your own body if you want someone else to love it.
Look at yourself naked in the mirror. Forget about the women in magazines, appreciate your unique beauty and find someone amazing to share it with every single day of your life. Passion doesn't have to be a passing fad. Passion and mind-blowing sex can be forever. If you believe it, you can make it happen.