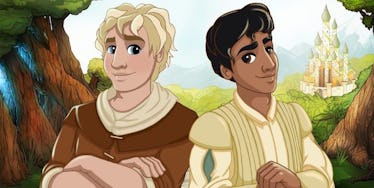 A Prince And A Farm Boy Fall In Love In This Adorable New LGBTQ Children's Book
Christine Luiten
"Once upon a time, in a land not far away, there was a place where no one cared if you were straight or you were gay."
That's how two New Zealand authors have prefaced their new LGBT children's book released today.
It's set to open plenty of eyes — young and old — when it comes to finding true love in fairy tales.
Said to be "a fantastical story about friendship, adventure, responsibility and love," the book "Promised Land" brings readers into the lives of nobel Prince Leo and struggling farm boy Jack, who lives in the forest, as their friendship slowly transitions into newfound love.
Things take a turn when Leo's mother gets married to a power-hungry new husband, who plans to wreak havoc on the very forest Jack and his family are supposed to protect.
Co-authors Adam Reynolds and Chaz Harris are eager to finally provide young members of the LGBT community with fictional characters they can actually identify with.
The pair want to show gay children that the Disney-esque 'happily ever after' they didn't necessarily have growing up is still 100 percent possible.
Harris said,
If you don't see yourself in stories, you don't see yourself in the world. I grew up without any stories to show me that 'happily ever after' could even exist if I was gay. That makes coming to terms with your sexuality a very isolating and traumatic experience for many young people. With everything happening in the world right now, we need to change the message of fear and intolerance towards anyone who is different.
[caption id="attachment_1791255" align="aligncenter" width="717"]Christine Luiten[/caption]
"We wanted to create a story where the sexuality of the characters was not the focus, and one where their relationship was not an issue," Reynolds also explained in a book release video.
He continued,
Our hope is that young people growing up and struggling with their sexuality can look at the characters in our book and see themselves represented. We also hope it may be able to contribute to early acceptance from young people ahead of the time when they may encounter LGBTQ classmates, friends or relatives later on in their lives.
Ya hear that, Mike Pence? We're evvvverywhere — get used to it.
"Promised Land," which currently available as an eBook on Amazon and iBook, had an original target release day of October 11, 2016, to coincide with National Coming Out Day.
While the release was slightly delayed, a Kickstarter campaign helped Reynolds and Harris raise enough money to cover the cost of illustration, design and printing.
Now, the touching love story can be read by all to remind the world that love is love, no matter your sexuality or your gender.
It's 2017, and everyone deserves a happy ending.
Citations: PRINCE AND FARM BOY FALL IN LOVE IN INSPIRING NEW CHILDREN'S BOOK 'PROMISED LAND' (Attitude)