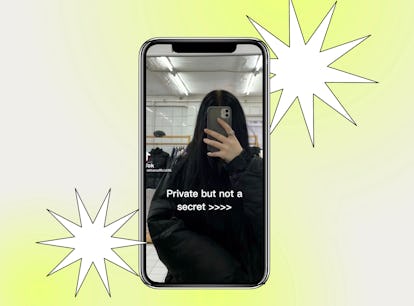 "Private But Not A Secret" Relationships On TikTok, Explained
Basically, it's an extended soft launch.
TikTok: @zarakhanofficial16
Soft-launching your relationship typically involves posting sweet, couple-y photos while maintaining your partner's anonymity. But there's a way to keep that soft launch going, well, forever. Enter "private but not a secret" relationships, which are growing more and more popular on TikTok — and no, these 'ships are not just for celebrities.
On TikTok, the hashtag #PrivateButNotASecret has accumulated 133 million views. The phrase gained popularity with creator Victoria Paris, who took the "private but not a secret" route for her most recent relationship. Paris, who has 1.6 million followers on the app, struggled in the past with having a super public dating life. In July 2022, she told People, "These girls who stop me on the street think I'm their best friend, think I'm their sister, think I grew up next door to them," she says. "So, they automatically say, 'Hi, Victoria. Love your videos,' and then they'll be like, 'So, what happened with your ex-girlfriend?'" To limit this kind of intrusion, Paris opted for a different strategy for her next romance: Though she'd often post with her girlfriend, she'd keep her face covered. Hence, the term "private but not a secret."
Keeping the details of your romantic life quiet means fewer eyes and opinions — so it's easy to see why that would be appealing for creators with large audiences. But this can actually be a healthy choice for everyone, no matter how many followers you have. As one TikToker put it, "Most people talk too much [about] what's going on in the relationship." This strategy allows you to avoid outside voices that don't really matter.
Not quite sold yet? Here's what TikTokers have to say about the pros of having a "private but not a secret" relationship.
The distinction between "private" and "secret" is key. There's a major difference between your partner refusing to post you at all — and appearing single on all of their socials — and them simply hiding your identity.
As this relationship type has grown more popular, creators have started posting photo inspiration and couple poses for keeping things "private but not a secret."
If you want to limit other people's opinions about your romance, a "private but not a secret" strategy might be the way to go. Luckily, there are plenty of ways to cleverly hide your SO's face for the 'gram — and keep all the goodness for yourself instead.