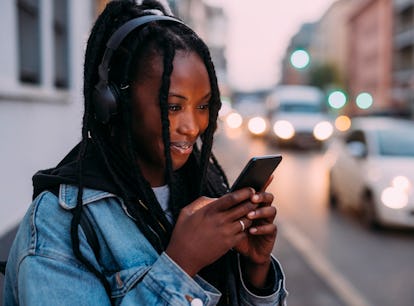 Add These 15 Podcasts About Dating To Your Regular Rotation, K?
Westend61/Westend61/Getty Images
Podcasts are magical for many reasons. They make you feel less alone — I've practically doubled my friend circle with all of the podcast hosts I've gotten to "know." (Anyone else?) They distract you from boring tasks — I love a one-hour pod while commuting or doing laundry. They also give you advice — true crime podcasts remind us not to murder, and wellness podcasts remind us to eat kale. There's just no solidarity like the kind of solidarity that comes from listening to strangers talk to each other, which is why I really dig podcasts about dating.
Dating can be difficult and lonely. If you're actively hunting for a cutie, you know I'm not lying — it's hard out there. There's nothing like swiping for hours, finding the one person who is not holding a fish and/or taking a mirror-selfie, finally arranging a date, and then having them cancel the night of. It can be very difficult not to veer into existential crisis mode while walking home alone with a dollar slice of pizza in hand. (Again, anyone else?)
While apps have expanded the number of people you're likely to meet, they can also sometimes be exhausting to use. It's been said before, but I'll say it again: Dating is a part-time job. Or more accurately, an unpaid internship. If you're dating or have ever dated here are some of my favorite podcasts to commiserate with on a regular basis.
If you're searching for a new favorite podcast, look no further. Out of these 15, there's definitely at least one that'll make you a regular listener.