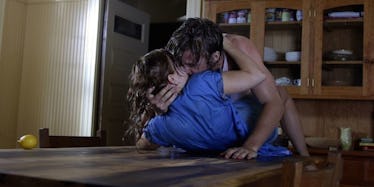 Labor Of Love: How Former Players Can Have Powerful, Married Sex
New Line CInema
Power is intoxicating, and those who take shots from it become addicted to its energy.
For some time now, I have known the power of being a man.
I can be confident in business and in the bedroom.
So, I'm going to share the secrets of how I did it with you.
Men have the potential to be the kings that women want us to become.
The truth is, our innate desire for love is entangled with our desire to be crowned king.
To become king of the bedroom is an unspoken, yet desired title.
Love makes sex bountiful and bold, and it sets a bedroom ablaze with passion.
Sex can be had without love, commitment and most of all, marriage.
Imaginations about sex have run wild for many people since their years as teens.
The beautiful teacher you thought wanted you during senior year in high school was the start.
You spent your college years believing every woman at a campus party wanted you.
So much so, you sacrificed lengthy pursuits for short-term gains.
Sex has made a fool of many.
As you matured, you realized that although the moans and groans of a woman gave you pleasure and the crown you sought after, heartbreak, disappointment and letdowns became the routine result of a lustful rendezvous.
I want to talk about the sex women yearn and dream of having from men they love: married sex.
Yes, I'm talking about married sex that is hot, long, passionate, funny, purposeful, loving and spirit-filled.
It's the type of sex that makes toes curl and Christians curse.
It's the type of married sex that reminds you of your athletic abilities.
It's the sex that's propelled by commands of "Come here," "Turn around," "What's my name?" and "How do you want it next?"
The portrayal of sex in marriage evokes a bed that is boring and played-out.
People believe your best sexual years are behind you once someone puts a ring on it.
But this is far from the truth, my friend.
In marriage, sex becomes robust.
Casual sex is advertised as fun with no commitments.
From the days I lost my virginity in a Dodge Neon to my thrill-filled college days and beyond, I was a man who conquered more women than I am proud of.
Lust has gotten the best of me, but those memories and moments are fleeting.
Casual sex — in all its physical freedom — comes at a price.
You don't imagine your one-night stand will go any further, but your predictions lead to afflictions down the road.
Eventually you become confused about the meaning of the relationship.
Am I in love, or am I in lust?
Have you ever said or heard someone say, "I don't want to just be your booty call anymore?"
Yes, being single comes with challenges in and out the bedroom.
Sex with my wife — the one who cooks for me, takes care of my son and listens to me — is beyond fulfilling.
For all that she does for me, I return the favor in the bedroom.
Men, this is your time to stop chasing random crowns held by women around the city.
You have an opportunity to satisfy your one true queen.
Give her your love, affirmation, strength in your hands, showing her how delicate and rough you can be.
Showing your queen affection reminds her that she is not just a concubine only meant for your pleasure, but another ruler you respect.
She chose to give herself to you, which opens you up to her body, mind, spirit and soul.
Men who understand this will attest to the connection they have with their lovers.
This article is for my fellas, but it should also be shared by women.
Understand that by having casual sex, you are creating a debt your emotions may have to pay for down the road.
It's great to desire to be thrown around the room lustfully, safely and with full freedom with someone who won't exit before you awaken.
Love makes sex bountiful.
Conquer the right kingdom, and the queen will rule with you forever.