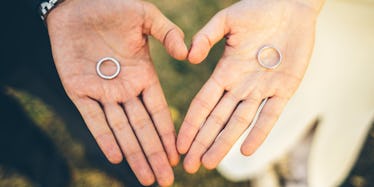 Guys, Here's How To Pick The Right Engagement Ring Without Asking Her
OK, guys. It's that time of year again. The weather is changing, and the holidays are drawing near with Halloween kicking the season off.
And you know what that means: Your social media feeds are about to be flooded by sparkling updates of engagement.
That's right, not only is it holiday season, but it's also engagement season!
Friends you've known since what seems like forever will be getting their happily ever afters under the twinkling holiday lights very soon.
It's all you can do to not feel your heart glow (or burn with jealousy if you're in your late 20s and into that kind of thing #choices).
Personally, I love to read the stories of well thought out engagements. I spend a lot of time stalking and discussing the rings with whomever is around or will answer my texts lickety-split.
What can I say? I'm totally your average girl in that way.
But I always think about the ring and the pressure it puts on a man's shoulders.
He's expected to create this magical experience his significant other is going to remember forever and recite at least a thousand times the following week.
And on top of that, he's supposed to pick out this incredible ring that suits his (hopefully) future betrothed, as well.
What does he do? What if his future bride is someone who doesn't really like jewelry, but has had an idea of what she's wanted either since she was little or from the moment she realized he was the one?
What if he doesn't know what he's doing at all and just goes in thinking, "Yeah, this should work?"
If you're thinking something along those lines, and you're considering proposing sometime soon, fear not!
Here are four tips to consider when you're looking to bring an extra sparkle to your lady's left hand:
1. Listen.
Listen to her when she's scanning Facebook and sees other engagement rings. She's going to let something slip that's important.
I know when I talk about them out loud, I'm talking about why that ring works for my friend, but wouldn't work for me.
If you want this to be a surprise (which I'm sure you do), listen to her when she's talking about someone else and you'll get the information you need (or at least a nudge in the right direction).
2. Use social media.
If your lady has a Pinterest or Instagram, she likely has a wedding board or follows wedding or ring accounts. Go through her various platforms and see what type of rings she's pinned or given a big heart to.
It's likely she's just pinning the same style over and over again, so you'll have a pretty good idea.
And if she has, indeed, marked the same ring over and over again, she likely has a feeling you're doing your research and has decided to provide you with some much needed insight.
Does she know you or what?
3. Refer to friends and family for advice.
One of the best sources of information in regards to your sweetheart's ring preference is going to the people closest to them.
If your SO is a little on the quieter side of things and doesn't want to come off as crazy, she's likely gone ahead and told her besties/siblings/mom about what she's looking for in a ring.
They're going to divulge her dreams the second you ask about them because they have been properly prepared and vetted for this very moment. Seriously.
4. Ask the right questions.
This tactic is no doubt the least popular, as it's likely going to give you away. But you could always just ask.
She might be difficult and say it's up to you, choose what you think she would like, but if you're not ace at picking out jewelry and she doesn't wear much, she may force your hand into asking more specific questions.
She could be downplaying what she really wants because she doesn't want to freak you out. Then again, she might be honest and tell you exactly what she wants.
But, like I said, she's going to start expecting things and wondering when it's going to happen. Use this option as a last resort.
No matter what, the important thing is to always keep your SO's desires at the forefront. After all, she has to wear the ring and show it off for the rest of her life.
It has to be what she wants, not what you think she's going to like.
Go through all of the outlets available to you before making the final decision. The ring is about her, and her preference should definitely take center stage.
If you're looking to get engaged soon, take this all to heart and do whatever you can to make both the ring and the proposal something she'll to cherish and remember for the rest of her life.
She'll love you even more for giving her everything she's ever dreamed of.
Cheers to engagement season!