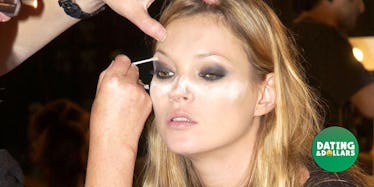 It Costs Me $1,000 To Get Ready, So Yeah, You Should Pay For The Date
Rex/Shutterstock
I'll confess: I'm an expensive AF date.
And it's not just because I have an unquenchable thirst for champagne, and I always accidentally order the "market priced" main course on the menu.
I'm expensive because I look expensive.
The final product sitting in front of you, the girl you're passionately engaging in heated conversation with, didn't magically wake up with bright red lips, vampy nails, shiny black hair, winged eyeliner and shimmery wonderfulness perfectly glimmering at the tops of her cheekbones.
No, it cost a lot of money to cultivate, baby. Far more money than the five martinis and three shared appetizers we ordered on our date at that quaint French diner downtown (which in New York, usually adds up to about $50 to $100, depending on where you are).
So, I happen to think it's only morally correct of you to take care of the bill on our date tonight. And the tip. I tipped my hairstylist, you tip the waiter. It's only fair.
I tipped my hairstylist, you tip the waiter. It's only fair.
Let me break it down for you:
Hair and Makeup
I spend $55 at Drybar before a date because I think it makes my hair look like a shiny, glittering ocean you might find on a serene, tranquil island.
And shiny, glittering oceans are fun to look at, aren't they? I want to be fun for you to look at, too. It's part of the fun of romance.
I also always wear Kat Von D Everlasting Liquid Lipstick in "Outlaw" ($18) because I think it's a sexy color, and it also won't come off if (and when) we make out.
I want to kiss you hard without worrying about my lipstick smearing across your face, making us look like we just emerged out of a tragic, post-makeout crime scene.
Nails
I want to have nice nails, too. Because I'm a lesbian, and a lesbian's fingers are very important sexual tools.
When you look at my fingers, I want them to look appealing and well-groomed because if things go well, you will get to know my fingers on a very intimate level. And first impressions are everything.
I get $50 gel manicures so they don't chip because someone once told me chipped nail polish is akin to wearing dirty underwear (which is not sexy).
Skincare
I like to get $50 LED light facials pre-date because they make my skin glow, and it's so flattering in the candlelight that it masks the deep acne scars I hate. (I wish I was empowered by my flawed skin, but I'm not. Someone call the empowerment police and file a report. Lock me away and toss away the key.)
Speaking of acne scars, I'm wearing a full face of makeup to our date as well. I love makeup, and despite popular opinion, I don't just slap it on my face so I look like a prettier version of myself.
Of course, that's part of it, but I love the character I'm able to create with makeup.
I love to draw seductive cat-eye wings with a liquid liner precision pen because it's weird, creative and interesting to the naked eye all at once.
I like to contour my cheeks with a mauve blush, and use a creamy highlighter to really make the tops of the cheekbones POP and to make my skin look hydrated and dewy.
All of this is at least $100 in product that I put on my face before a date. And that's not including mascara, eyeshadow, eyebrow pencil, primer and moisturizer.
And you want to split the check? I don't think so.
Lingerie
And then, of course, there is the lingerie. I think lingerie is so sexy. Even if we don't get down and dirty, it makes me feel sexy at my core. And feeling sexy is what gives you sex appeal.
I choose to wear agent provocateur because it makes me feel sexy, but it isn't cheap. We're talking $200 bras, baby. But hey, I've never had a complaint in the bedroom.
Feeling sexy is what gives you sex appeal.
Brows and Accessories
I get my brows done for $20 a pop. I thread because my skin is sensitive, and I don't want the little red bumps underneath my poor brow bone. I'm also Jewish and hairy, so I have to do this every 10 days.
I'm wearing jewelry that sparkles from all the way across the room. It's costume jewelry, but it still costs $30 a pop.
I use a very liberal spray of Tom Ford fragrance ($82 per bottle) in all the right places — you know, below the belt, between the clavicles and in the navel.
I do all of this for myself and for you. I'm an old-fashioned creature; I like to get groomed like a prized show dog for my dates. And 90 percent of the time, my date is the type of person who is into glam chicks like me.
I like to get groomed like a prized show dog for my dates.
So if you want to date the glam chick, you have to respect the amount of money she spent getting all glitzed out.
Like, in my case, it averages me about $1,000 per date. $1,000, people.
It averages me about $1,000 per date.
All that makeup, all those brows and all those blowouts? Love is free, products are not.
After I've prepped my precious self, you will say, "I love your style. I love your lipstick. It's what ~drew~ me to you," while sipping your blood-red wine.
And I will ever so sweetly say, "Thank you." And it will be a totally authentic response because I really mean it.
Call me controversial, but I happen to like it when the person I like (and if we're on a date, it's safe to assume I like you) appreciates the way I look.
I'm a sexual creature. I want to be physically desired for the way I look, as well as the way I think and speak. And I'm not ashamed of that at all.
I know I'm going to get SLAMMED for this, but the least the other person can do is pick up the check. Is that so outrageous?
This belief of mine transcends sexuality and gender. Like I said, I'm a dyke. I'm not doing this to look good for a man because society told me I must look good to a man so he'll want to fuck me.
And of course, of course, of course, you're going to say, "You have more to offer than your looks, Zara." Well, obviously. I have a lot to offer this cruel, cold, world. I'm not being reductive to my intellect by taking an active interest in my physical appearance.
I'm not being reductive to my intellect by taking an active interest in my physical appearance.
Let's turn this ship around for a second. Just because you picked up the check on the date doesn't mean the only thing you have to offer is your wallet, right? You also have a lot more to offer than just money.
So why do we shame people for beautifying themselves to impress a date, but we don't shame people for pulling out their wallets to impress a date? I mean, both components — money and beauty — are two very essential components to dating culture.
The beauty doesn't have to be conventional, and the money doesn't have to be exorbitant. But making yourself physically attractive and having to pay for a night out are two undeniable realities in the world of dating.
So, listen up: If you want to go on a date with a girl who lets her eyebrows go wild and is totally, authentically bohemian and natural, I understand splitting the check. Those girls are really fierce.
But the girls (and boys) who really invest in their appearance are just as fierce. And a lot of people are drawn to the fierce girls who wear makeup and invest in their wardrobe.
So, pick up the damn check if that's your type. Or don't date the glam chick. You decide.