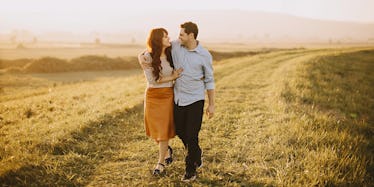 What Should You And Bae Do This Weekend If You Hate Basic Fall Activities? (Quiz)
Dylan M Howell Photography
Whether you've just started seeing someone new (congrats!) or are in a long-term relationship, you may not want to go out pumpkin picking this weekend with the rest of your basic AF couple friends.
And that's totally OK.
Because, the truth is, you're either a basic fall person, or you hate all things basic. You're either an Ugg boots wearer, or you've signed a petition to never see those fugly things again.
If you're the latter, I totally respect you. But trying to figure out what to do over the weekend can be tough if you want nothing to do with pumpkins, spiced apples or colorful leaves.
For starters,you have to take into account what you non-basic things you like to do, what non-basic things your SO likes to do and how much you're both willing to brave the cold (if at all).
Then, you've also got that whole problem of budgets. How much are you guys willing to spend to entertain yourselves? Do you even want to spend anything? Can you spend anything?
And do you like seeing other humans on your days off, or are you more low-key and would prefer to ~Netflix and chill~ or just cuddle under the covers with each other instead?
The deciding factors really are endless. Which, come to think of it, is probably a big reason why I'm not in a relationship. The thought of having to decide between these possibilities with another person makes my head spin.
But have no fear, all you non-basic twosomes out there! I've got you — and your weekend needs — covered.
Take this quiz to figure out what you and bae can do this weekend if you'd rather choke on a cactus than drink a pumpkin spiced latte while apple picking. Or go back to your high school prom naked rather than take a hike through the fall foliage.