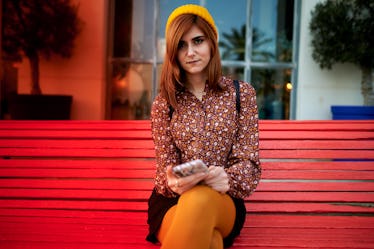 According To Experts, This Is Why Your Ex Is Liking All Your IG Pics
They could be testing the waters.
F.J. Jimenez/Moment/Getty Images
I have an ex who always likes my photos on social media. It's been years since we have actually seen each other or had a conversation, and yet the likes persist. I honestly don't really know if it is normal to have an ex still liking all your pictures. And more importantly, why do guys like their exes' pictures? Does it actually mean anything, or is this just how some people behave after a breakup? Should I be annoyed my ex liked my Instagram post or just let it slide — so long as they don't slide into my DMs, that is? And should I like my ex's picture on Instagram after they liked mine?
I wanted to find out what it means when a ex continues to make themselves known on your social media by liking all your pictures, so I reached out to experts Connell Barrett, Dating Transformation founder and executive dating coach, and Dr. Gary Brown, a couples therapist in Los Angeles, who helped me break it down. According to Barrett, it's common for an ex to continue liking all your pics long after a breakup.
"Basically, there are two kinds of dumped daters: Those who like their ex's photos, and those who want to like their ex's photos but decide to move on instead," he tells Elite Daily. "Few breakups are mutual. Almost always, one person wanted to stay together, and often that person will try to stay connected to their ex by liking their social media photos and posts." If your ex is liking all your posts, it might mean one or more of the following things.
Social media is great in so many ways, including how it connects us to the people in our lives even after long periods of time and distance — but obviously that gets a little tricky when you add in the ex factor. So, if someone is sticking around after you've gone your separate ways, chances are, as Barrett said, they are doing so because some part of them doesn't want to let go. The important takeaway here is that if it makes you uncomfortable, you have every right to say so and, if they don't hear you, to block them. They are not entitled to stay in your life either IRL or online. Period.
Experts:
Connell Barrett, executive dating coach and Dating Transformation founder
Dr. Gary Brown, couples therapist
Editor's Note: This story has been updated by Elite Daily Staff.
This article was originally published on