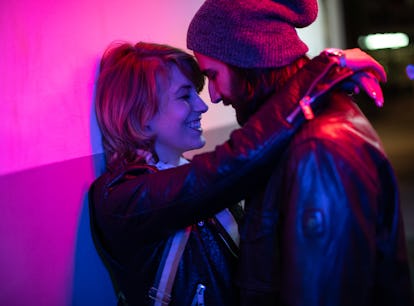 Here's The Moon Sign You're Most Compatible With For Love
Your moon sign matters just as much as your sun sign, y'all.
miodrag ignjatovic/E+/Getty Images
If it seems like your zodiac sign isn't a great match with the sign of your crush, date, or significant other, don't worry. Try looking at the most compatible moon sign pairings, because there's a lot more to consider about someone's astrological chart than just their sun sign. (Your sun sign is your main sign — the one you've probably heard the most about — but everyone's personality, behaviors, and actions are influenced by a variety of other astrological factors.)
"We are more likely to be drawn to people who fulfill, complement, or balance the needs of our moon sign," astrologer Lara Newell-Barrette tells Elite Daily. It may be because while the sun sign represents one's conscious self-expression or how someone conveys their unique self, the moon is linked to their emotional world.
"[The moon represents] what we see as nurturing and nourishment," adds astrologer Alicia Shaich Yusuf. It indicates the drive for security, stability, intimacy, and belonging, which is why moon sign compatibility matters just as much (if not more than) sun sign compatibility. Once you figure out your moon sign with the help of a moon sign calculator, here is the moon sign with whom you're most compatible for love and relationships.
Sun sign compatibility can be important, but it's not the only astrological factor to look for in a relationship. Before you panic that you and your partner aren't a perfect zodiac match, look beyond the sun to the moon and the stars.
Sources:
Lara Newell-Barrette, astrologer
Alicia Shaich Yusuf, astrologer
Editor's Note: This story has been updated by Elite Daily Staff.
This article was originally published on