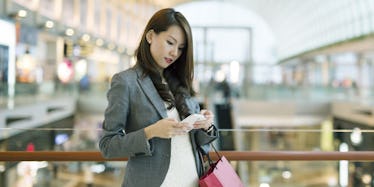 8 Mistakes You're Making While Online Dating That's Stopping You From Love
The dating game has changed in the past few years. Now, everyone is embracing online dating.
With so many apps at your fingertips and so little time to actually get out there and meet people, online dating seems to be the best option for young adults.
But even though online dating is changing the way people date, it doesn't mean it makes dating easier.
In fact, it's quite the opposite. It's really easy to make mistakes and advertise false images to potential dates. And this is not the only mistake one can make when it comes to online dating.
Here are the eight most common mistakes people make while online dating:
1. You don't get out of your comfort zone.
If you're afraid of putting yourself out there, you'll never be able to find a potential date.
Many people are scared of getting hurt, so they avoid registering for a matchmaking app. This is definitely a bad approach.
Yes, online dating can be dangerous, but traditional dating is also dangerous. There's no point closing your opportunities because you're afraid to get out of your comfort zone.
2. You don't do your best.
There are many people who make profiles on dating apps, and then complain they don't get dates.
Most of the time, the problem has to do with how they're presenting themselves online. If you only write generic information and show boring pictures, no one is going to be interested in your profile.
Pay attention to what you write on your profile, as well as the pictures you post.
3. You lie.
While sharing boring information will put people off, posting lies or presenting yourself in a false light is not going to end well. Be confident and honest.
There is no point in posting a false height or weight, as this will make you a liar and break any trust your potential date may have had in you.
4. You wait for someone to find you, instead of looking yourself.
The dating game has evolved. Nowadays, it requires a lot of work from both parties.
The time when you could afford to wait for your prince or princess to find you is long gone. Now, you have to actively fight by looking for this person yourself.
Invest some time and effort into online dating in order to avoid being disappointed.
5. You're too shallow.
Online dating is based on how one looks. But this shouldn't stop you from giving someone a chance.
If your potential date is a couple of inches shorter than you would consider perfect or doesn't have the "right" hair color, give him or her a chance.
Evaluating people based on their appearances is the basis of online dating, but it shouldn't be a deal breaker.
6. You don't pay attention to what the other person wants.
It's easy to swipe until you find someone you like.... but is that person going to like you?
Check if your potential date likes the same things you do.
If your criteria fit, send a message. If not, you should probably be moving on.
7. You trust too soon.
When you talk to someone online, you are prone to being more honest and trusting the other person easily. This can become dangerous, as you might trust someone too soon.
You could end up with a broken heart.
Take it slow and keep in mind you could be talking to someone who is not completely honest.
8. You give up way too fast.
Even though it's easy to make a profile on a dating app, it's as easy to delete it.
Most people  give up too soon, after just a couple of bad experiences. Dating is unexpected, and it's bound to give you heartaches.
But it will also give you lots of excitement.
Don't give up after the first obstacle. Keep dating, and you will eventually meet your match.