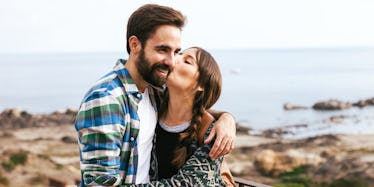 10 Changes You Need To Make To Your Dating Game To Find Love In 2017
Now that 2016 is over, it's time to look back on your dating life over the past year, and come up with some resolutions that will make 2017 a success in the dating department.
No matter whether you consider 2016 a dismal failure or a bright spot romantically, coming up with 10 solid changes to your dating game can improve your chances of enjoying some fun dating experiences.
Here are 10 recommendations for resolutions that are sure to bring you dating success and good times over these next 12 months:
1. Update your profile.
Whether you're a Tinder girl or a paid service fanatic, a fresh update to your account will feel like a brand-new outfit. It will give you confidence and attract a wider variety of attention.
Upload some new pics. Take out some old ones. Update your likes and interests to reflect any changes you've been going through or some new passions. And most importantly, update the type of date you'd like to meet.
If you've had bad experiences with musicians, for example, then make sure to take your interest in musicians off your profile. Now, you can start the new year fresh with an updated profile that truly reflects who you are at this point.
2. Switch up your app.
The window to literally thousands of new dates is right in the palm of your hand. If you had a bad year, and you were only using Bumble, why not switch it up and head over to Tinder instead?
It won't cost you a thing, and it can open a whole new world of dating options.
3. No stalking.
The temptation to internet stalk your next date is always high. You want to check out every profile, Google their name to see what comes up and look at all the comments and likes on their posts to get a full picture of this person.
The temptation to internet stalk your next date is always high.
But for your next date, try something new by not looking up their full online presence.
Let it be a surprise, and allow the conversation to bring out the qualities of this person. After all, stalking ahead of time can be boring since you'll probably already know most of what they're saying on a first date.
4. Expand your possibilities.
Perhaps you have groomed your dating standards list a little too thoroughly. Or maybe you don't get enough hits on any of your platforms because you set your expectations too high.
If you feel this is the case, try to be more openminded with your dating possibilities. This doesn't mean to just open the front door and let anybody in off the street, but if your profile reads, "interested in a 6-foot-one, 23-year-old guy with black hair who works as a chef, listens to CHVRCHES," then you may be limiting your prospects.
5. Put the phone away.
Now, we're getting down to business with the actual dates.
Look, yes, everyone is glued to their phone morning, noon and night, but you may be surprised to find that some people are starting to speak out against excessive phone use on dates.
Leave your phone in your bag for dinner, and encourage your date to do the same.
Not only does staring at your phone suck the life out of what could be a great conversation, but it can make your date feel as if you're uninterested or too good for them.
Instead, leave your phone in your bag for dinner, and encourage your date to do the same. After all, Facebook can wait when "the one" could be sitting right across the table.
6. No more ghosting.
Sometimes, things just don't work out. It may be after one date, or it may be after 10, but sometimes, you just feel like you need to shut it down.
While ghosting someone is an easy solution, it is, no doubt, bad karma to leave someone in the dark about why you've dropped them.
So, instead of suddenly dropping off the face of the Earth, why not send a simple text or an email ending the relationship instead? You'd be surprised how much this can help you move on.
7. Go on more second dates.
We all know, sometimes, things don't work out right from the jump.
Maybe the date looks nothing like their profile picture. Perhaps they jump right into some opinions that don't sit well with you. In these cases, it is fine not to go on a second date. But if you haven't been going on ANY second dates over the last year, then maybe you just aren't giving people the chance they deserve.
The first impression is not always everything.
The first impression is not always everything, and many long-term relationships have started off on the wrong foot. So this year, make a resolution to give a few dates a second try.
8. Show your true self.
I know this sounds cheesy, but it really is true.
If you're the type to conform to whatever you think your date will approve of and saying what you think they want to hear, then try being yourself.
Say what you truly feel and act how you'd normally act. You might be surprised how much more your date might like you, and it will help you feel better about yourself along the way.
9. Go beyond dinner and a movie.
If dinner and a movie are your normal date activities, expand your horizons on your next date by doing something a little different.
If dinner and a movie are your normal date activities, expand your horizons.
Go to a concert. See a play. Hit up a museum or an art exhibit. Impress your date by suggesting something cultural. After all, even if the date goes awry, at least you'll be doing something fun.
10. Don't sweat rejection.
As an experienced dater, you have obviously sent a "thanks, but no thanks" text before. So why get all bent out of shape if you receive one or get ghosted by a date?
Obviously, that person was not for you, and they're doing the practical thing by saving you both your time and effort.
Don't get mad or let it be a blow to your self-confidence. Just move on to the next date, and look forward to the positive dating experiences on the horizon.