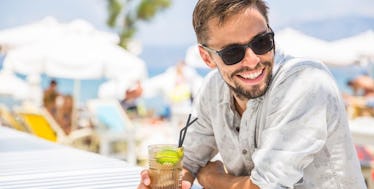 Men Reveal The Pick-Up Lines They've Used That Worked And Maybe You'll Fall For Them
Jovo Jovanovic
The art of picking up someone at a bar takes nuance, practice, patience and, well, a really creative pick-up line.
Deciding how best to snag the attention of a lovely lady can be stressful, and you only get one shot at a first impression. (Really — I read somewhere that it takes a person 17 seconds to decide if a stranger is a friend or an enemy.)
GUYS, HOW CAN YOU ENSURE YOU ARE A FRIEND AND NOT AN ENEMY?
Luckily, the internet's always there to help a brother out.
Reddit users took to the site to fill each other in on their tried-and-true pick-up lines, and they're — I don't know — fine?
Take a look and see if any of these cheesy lines would work on you and your gal pals.
Never underestimate the power of self-deprecation.
When in doubt, go with brevity.
If you're panicking, stick with a classic.
Give 'em the bait and switch.
Everyone always says honesty is a virtue.
Give it the ol' college try.
Overprepare. Overprepare. Overprepare.
Ladies, never underestimate the length to which men will go to get our attention. Pick your poison and enjoy!