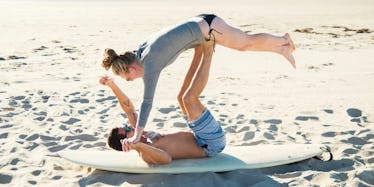 Men Reveal The Things They'll Only Do To Impress You And It's Pretty Hilarious
Kate Daigneault
I've definitely gone above and beyond when trying to impress someone I was interested in.
I'm not a sloppy person, but if a guy was coming over, he'd be able to see his reflection on most of the surfaces in my apartment.
I consider myself suave in the fashion department, so if I have a date, my outfit is definitely crisp, clean and newly purchased.
Whoever I'm crushing on isn't necessarily asking for these things to be done, but I just have this innate desire to try and leave a positive, lasting impression.
As expected, I'm not the only one who likes to impress a love interest.
A handful of gentlemen took to Reddit to admit exactly what they do to try and impress you (meaning all you beautiful ladies out there), and frankly, I should be taking some notes, too.
These guys go for quality manscaping below the belt.
This guy tries to be a wordsmith by writing some "heartfelt" rhymes.
This guy always tries to get a few steps ahead of the game.
This guy believes women will swoon over his luscious locks.
These guys think flaunting their monster dongs is the best plan.
This guy took up hobbies to make him seem more interesting.
These guys make sure they snap their mugs all day, every day.
This guy thinks old-fashioned butt play will impress a lady.
These guys like showing off their... unique body parts.
And this guy thinks breathing is always a good start.
So, ladies, remember that men are going the extra mile to impress you in some way, shape or form, so be sure to appreciate it!
You know, even if it's as simple as a pulse or impressively styled pubic hair.