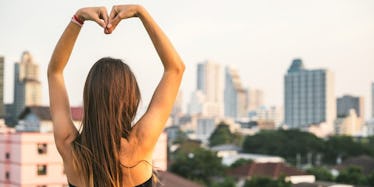 30 Awesome, Powerful, Inspiring Mantras To Follow After You've Been Dumped
Getting dumped sucks. There's no way around it, no nice way to sugar coat it and no way to deny it.
Even if you ultimately wanted out of the relationship anyway or if you knew you were bad for one another, someone else making the decision for you (and even because of you) feels like poop, and it can be tricky to pick yourself back up afterward.
If it was a particularly nasty breakup, perhaps you're in a really volatile position and have — gasp! — an actual broken heart. If this is the case, PLEASE HANG IN THERE. YOU WILL BE OK.
As silly as quotes, affirmations or mantras may feel to some people, I've really come around to the idea of using them as a means of self-fulfillment and encouragement, and I think it could help you, too.
Here are 30 of my favorite mantras or quotes to help remind you of your self-worth, confidence, strength and ability to love again.
1. "You is smart. You is kind. You is important." — "The Help"
2. "You deserve love and you'll get it." — Amy Poehler
3. "50 years from now, when you look back on your life, don't you want to be able to say you had the guts to get in the car?" — "Transformers"
*Editor's note: I loved this quote before I knew what movie it was from. That doesn't change a damn thing that it's about cars, OK!?
4. "Life is tough, my darling, but so are you." — Stephanie Bennett Henry
5. "Don't forget to fall in love with yourself first." — Carrie Bradshaw in "Sex and the City"
6. "You had a purpose before anyone had an opinion." — Unknown
7. "Men are a luxury, not a necessity." — Cher
8. "Never dull your shine for somebody else." — Tyra Banks
9. "Why the fuck not me?" — Mindy Kaling
10. "You are enough." — Unknown
11. "A candle loses nothing by lighting another candle."  — James Keller
12. "For a wound to heal, you need to stop touching it." — Unknown
13. "Just keep swimming." — Dory in "Finding Nemo"
14. "Difficult roads often lead to beautiful destinations." — Unknown
15. "Falling down is an accident. Staying down is a choice." — Unknown
16. "Holding onto anger is like drinking poison and expecting the other person to die." — Buddha
17. "Put on your big girl panties." — Unknown
18.  "A little party never killed nobody." — Fergie
19. "Happiness is in the heart, not in the circumstances." — Unknown
20. "Don't be like the rest of them, darling." — Zsa Zsa Gabor
21. "It's time to start liking who the fuck you are." — Unknown
22. "Work hard, slay hard." — Beyoncé, probably
23. "Eat it or don't eat it, but shut up about it." — Chelsea Handler
24. "I'm an instant star. Just add water and stir." — David Bowie
25. "You didn't come this far to only come this far." — Unknown
26. "The harder you slam a ball into the ground, the higher it bounces back up." — Laurel House
27. "P.S. You're not going to die." — Daniel LaPorte
28. "No one can make you feel inferior without your consent." — Eleanor Roosevelt
29. "Don't look back - you're not going that way." — Unknown
30. "You're braver than you believe, stronger than you seem, and smarter than you think." — "Winnie the Pooh"
Pick whatever mantra speaks most to you, and shine, baby girl, shine!