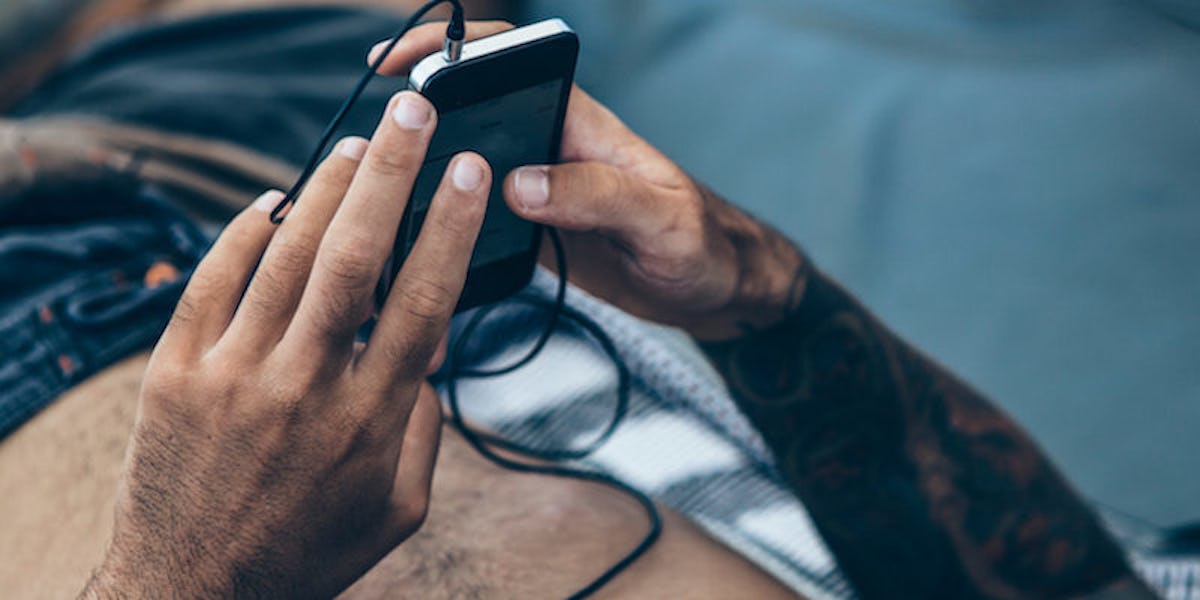 This Grindr User Has Been Accused Of Murdering Four Men He Met On The App
Soren Egeberg
Look darlings, I'm ALL about those gay boy hookup apps. One of my favorite queer culture writers, Donny Meacham, has written a few powerful articles in defense of the controversial app that I loved with every fiber of my 30-year-old being. This is not a shaming post. I hate shaming posts.
To be perfectly honest, as a lesbian, I've wished and prayed to the gay goddesses up above, to please (PLEASE!) give us sexually-charged dykes a Grindr of our own.
In fact, I'm all for people having as much sex as they desire. I hear people talk shit about the incessant hookups that occur in my lovely queer community and when I hear an outsider sex-shame us, I'm fueled with nothing but relentless desire to tell them to piss off.
It's no one's business how much we hook up or the reasons behind WHY we hook up. If I'm having sex to fill an empty void or remedy a deep-rooted childhood trauma, that's my business. As long as we're safe, open and honest with our partners about our STD statuses, don't comment on what we do between the sheets.
However, as I mentioned before, SAFETY should always be synonymous with SEX. And there are bad, terrible, awful, psychotic people out there who use our beloved hookup apps to bestow hatred and violence on our community.
There has been recent devastating news that the alleged east London serial killer, Stephen Port, 41, has been accused of murdering four men he met on Grindr and has been charged with attacking eight other victims. He has been accused of killing these four innocent men with high doses of GHB after inviting them back to his apartment.
According to this article in the Daily Mail, Port has been officially charged with,
Seven counts of rape, six counts of administering a substance with intent to overpower to allow sexual activity and four counts of assault by penetration. The charges relate to another eight alleged victims said to have been attacked at Port's flat between August 2011 and October 2015 after meeting on the gay dating site.
I'm not reporting on this horrible tragedy as a a scare tactic to keep young, attractive men from getting their rocks off on Grindr. I just want to raise awareness that there are some twisted people out there who take advantage of too many members of our gentle community. I'm tired of it.
So please, queer kittens, don't just go home with anyone. Have a healthy guard up. Meet your hookups in public before you go home with them, don't get wildly intoxicated, use protection and LISTEN TO YOUR GUT. Always listen to your precious gay instincts, for they are far wiser than you or I.
Sex is a powerful force and can drive us to make reckless life choices. But let's just be sure to take a deep breath pre-hookup and remember that nothing is more important than our safety -- no matter how seductive or tempting everything feels in the heat of the moment. It breaks my heart to think of this tragedy and the loss of these innocent men.
So in short: I love you all. Stay safe. Oh and wrap it up, babes. Always wrap it up. But you already knew that, huh? You don't need some self-obsessed mascara lesbian to tell you that.
Citations: Chef accused of poisoning and killing four men he met on gay dating app Grindr is charged with attacking eight others (Daily Mail)