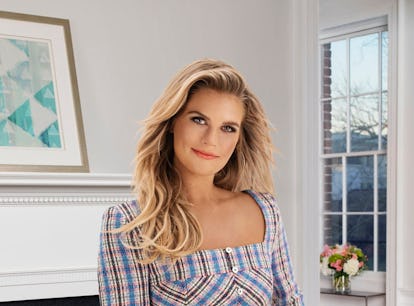 Madison LeCroy Is Engaged To A Mystery Man After A Whirlwind Romance
JOHN VALKOS/BRAVO
Madison LeCroy revealed in an interview with Us Weekly on Wednesday, Oct. 13, that she's officially engaged to her boyfriend Brett after reportedly dating for only seven months. The Southern Charm reality star gushed about the engagement, saying that her partner involved her son in the adorable plan and that she's been holding onto the announcement but is too excited to keep it in any longer.
"Oh, my gosh. I am so excited and I feel like I've been trying to hold this in for quite some time and it has been one of the hardest things I've had to do," Madison told Us Weekly. She also said she and Brett are in no hurry to lock down wedding plans, although she's already started dreaming about the big day.
"Even though I was married in the past, I had never tried on a wedding dress. I had never done any of that," she said. Madison's first marriage to a man named Josh Hughes reportedly lasted five years, until they divorced in 2015. "This is really the first time that I'm going to be a bride, so I'm going to take my time."
Madison added that both she and Brett have large families, so they plan to "keep it under a hundred" guests if they can. A feat, she added, that "is going to be hard" for the charming couple to do.
During the interview, Madison showed off her custom Nicole Rose Jewelry ring, which Mike Fried, CEO of The Diamond Pro, estimates is worth roughly $120,000, depending on the diamond's quality. Fried said the center diamond appears to be at least four carats, while the ring setting appears to be yellow gold or rose gold — an elegant pairing that allows the diamond "to stand out and take center stage."
"Madison's timeless ring is a nod to the couple's past, present, and future together," Fried said.
Madison and Brett's engagement comes in the wake of some recent relationship drama from over the past year, including Madison's breakup with ex and fellow Southern Charm-er Austen Kroll in December 2020, and a rumored affair with Alex Rodriguez from early 2021 that was never confirmed.
Of the alleged affair, Madison told PageSix in February that, while she and A-Rod had "never met up" and "never been physical," they'd "spoken on the phone," though it was, in her own words, totally "innocent."
A source reportedly close to A-Rod claimed to the New York Post that the athlete did not cheat on Jennifer Lopez, his fiancée at the time. "He doesn't know this woman," the source claimed, adding, "Look, does this mean he didn't DM her and liked a photo or two? I guess not, but he doesn't know her — and he definitely didn't hook up with her." Even so, J-Rod split two months later.
Now that she's with Brett, Madison seems happy and calm.
In September, Madison told Us, "This is like my mom said, 'You'll know when you know.' That's exactly how I feel with this. It's crazy to have someone that respects you as much as I respect him," she said about her now-fiancé Brett. "Like, for the first time in my life … I feel like I'm finally grown up and found a man."