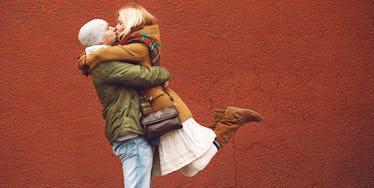 This Is What Love Looks Like At Every Stage Of Your Relationship
The trajectory of the relationship between my husband and I was unconventional to say the least. We went to high school together, lost touch (aside from online connections via Facebook and Instagram), then reconnected 13 years after graduation in our hometown over a cup of coffee.
Eight weeks later, we were married.
Most couples, however, go through a bit longer of a courtship. It's common to see couples together for a year or two... or even longer before deciding to get engaged. After a proposal, you'll even see couples spending year or so planning the wedding before actually tying the knot.
In building a lifelong love, there are certain stages that most couples go through. Even if you had a non-traditional relationship like myself, the same stages of love can largely be seen across a whole variety of partnerships.
This is what they look like:
First Date
Although it may not seem like it at the time, the first date is one of the best, purest, most fun moments in a couple's life. If you end up together forever, this is the day you'll look back on with fondness.
On the first date with my husband, we both felt an immediate connection, and were fairly surprised since we were anticipating just a good friendship (or some casual hook-ups). Now that we're married, we look back on our first date with a smile, remembering how it was just the beginning of us.
First dates can be anything, whether boring, fast-paced, full of energy, or just relaxed. But chances are, that first date with "The One" will be combination of a brilliant connection, and a hopefulness for the future. You'll feel a little high-strung with anxiety, but you'll also feel thrilled to have met someone so seemingly right for you.
The two of you will likely spend hours talking, getting to know one another, and being excited for what's to come - together.
Early Dating
This is what many call the "infatuation" phase. Here, you're together, you're obsessed with each other, and you can't get enough of the relationship already.
At this point, your body is releasing a ton of dopamine (that chemical that gets you excited, making your heart beat faster) so you're probably wandering around a little bit dopey, caught up in this newfound relationship with your partner. You're also probably getting a little high on oxytocin when you have sex with your partner (or even when kiss or cuddle).
This level of intimacy and closeness is one of the most fun phases in a relationship.
Since my husband and I went from first date to married in eight weeks, this phase didn't last for us like it does for most couples. That didn't stop us from texting all day, seeing each other every moment that we could, and having all the sex.
Seriously Committed
When you get to the stage of your relationship where you are seriously committed, the infatuation might be there to a certain extent, but you've also started to come back to earth a tiny bit.
You're feeling full-blown love for your partner now, instead of just the sexual pull of those first crush-like feelings. When you're in love, your hormones are bouncing up and down all over the place, and your brain is generally going a little nuts. Chalk it up to how fast you two are moving in the relationship, whether in months, or years.
This point is the comfy, solidified part of the relationship, where the two of you have no doubts about your love for each other. You spend weekends and holidays together, and you've built space in each other's lives.
Engaged
Once you decide that you're getting married, it means the two of you have been through enough to feel like you know each other completely.
My engagement only lasted three weeks, but was fast-tracked with daydreams of what married life would be like, moments of goofing off with my now-husband during quick wedding planning, and continued amazement that I had found someone like him.
Regardless of how you got here, when you get to the engagement stage, you'll be content with all aspects of your relationship. You're at the part where you're infatuated with the idea of spending the rest of your life with the one you love. You may have started getting into the "real" phase of love, meaning that you've seen each other's flaws, and decided that they don't matter anymore.
Getting engaged can put you high up in a cloud, dazed by the idea that down the line, you're set to be married. 
Married
I've been married for just a few months, so I'm still considered a newlywed. Even in just a short time since tying the knot, we've started to see the real, completely visceral sides of each other, and decided that waking up every day and loving each other is something we want to do. I'm excited to see how our love continues to grow, change, and evolve over time.
When you're married, the real, eternal aspects of love start to shine through. Call it "true love," if you want to give it a label. After being married for some time, you realize that being in love is a choice that only you can make on your own. You're going to work on it every day, and are set on keeping it a part of your life.
By now, you've probably seen the good, the bad, and the ugly about your partner, but the two of you have chosen to stay together, and continue to love each other despite it all.
The many stages of falling in love and moving forward in a relationship won't look exactly the same for everyone. What is true to most, if not all, is that it's a process everyone should experience.
When you find "The One" you're meant to be with, you'll go through ups and downs with different experiences and feelings, culminating in a beautiful, long life together.