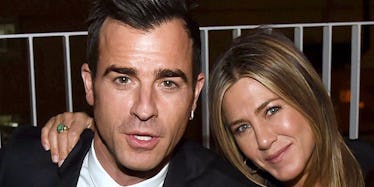 The Best Ages To Get Married Prove You Shouldn't Feel Pressure To Find The One
REX/Shutterstock
Posting a big, shiny rock on your Instagram in your mid-twenties looks pretty awesome (in a douchey way), but you might want to hold off on getting married for a few more years.
I'll tell you why: A study has revealed the best age to get hitched.
The good news is that it's older than you'd guess, so you can tell your parents to get out of your grill because science has your back.
Sociological researcher Nicholas Wolfinger believes he's pinpointed the best age for marriage to be between 28 and 32.
The actual reason why isn't known for sure. Wolfinger pulled a bunch of data from the National Survey of Family Growth between 2006 to 2010.
He looked into divorce rates and found separation to be 50 percent less likely for 25-year-olds compared to someone who gets married aged 20.
Britney Spears is a great example. She married her childhood friend Jason Alexander in 2004. This, however, lasted a mere 55 hours. A couple of days after exchanging vows, she filed for divorce
The researcher also discovered you're more likely to get a divorce if you marry in your mid-thirties compared to getting hitched in your younger years.
In conclusion, getting married too early or too late have similar consequences.
Wolfinger noted the same pattern when analyzing National Survey of Family Growth data from 2001 to 2014.
After five years of marriage, those who said their vows as teenagers had a 38 percent risk of divorce.
Couples in their early twenties had a 27 percent risk. The percentage undergoes a major decrease for those aged 25 to 29, and again for 30 to 34 with ten percent.
The risk then creeps up with age.
He says these findings are not linked to someone's sexual past. But in elsewhere in research, Wolfinger points out women with two premarital sex partners have a much higher chance of getting divorced down the line compared to women who have three to nine sex partners before marriage.
Citations: What Are the Best and Worst Ages to Get Married? (Psychology Today)