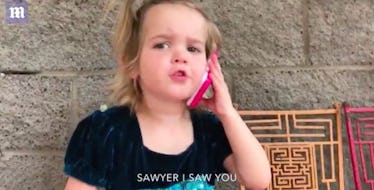 This Little Girl Told Off Her Boyfriend On Her Fake Phone And He Should Really Be Scared
Daily Mail
2-year-old Mila caught her boyfriend, Sawyer, red-handed macking on some other chick at the playground, and needless to say, she was not pleased.
Like any self-respecting 2-year-old, she decided to pick up her fake pink phone and give Sawyer a piece of her mind.
Lucky for us, her entire rant was caught on video, and let me tell you: It was truly legendary.
For those of you who can't watch the video right now, don't worry! I've got a full recap for ya here.
Before she makes the call, she explains to her viewers,
I SAW SAWYER IN THE PARK WITH ANOTHER GIRL. I WAS MAD. I'M CALLING HIM RIGHT NOW. THIS IS RIDICULOUS.
(I have to use all caps to match the level of absolute FURY in her voice)
Finally, she "calls" Sawyer and REALLY gives him and ear full:
WHAT ARE YOU DOING? SAWYER, I SAW YOU.
She continues by really sharing with him how she feels:
HEY, WHY ARE YOU MAD AT ME? DON'T GO TO THE PARK WITH HER. I SAW YOU. I'M SO SAD. NEVER, EVER DO THAT AGAIN. YOU'RE NOTHING. I'M DONE WITH IT.
And with that, she puts her phone down. Her job here is done.
But Mila's only human, and we all know how ~weak~ love makes us, so she picks her phone back up one more time and says,
I'LL CALL YOU LATER.
But apparently, Sawyer didn't take too kindly to her pity "call you later" because she followed it up by saying,
NEVER, EVER TALK TO ME LIKE THAT. DO YOU HEAR ME? I'M SERIOUS.
Then, she obviously has to top it off with a reminder for him never to go hitting the park with a side chick:
NEVER, EVER DO IT AGAIN. DO YOU HEAR ME?
(Is the phone connection bad on this fake pink phone? Why can't he ever hear her?)
Finally, she's over these stupid games with Sawyer and hangs up on him with this one savage parting line:
NEVER, EVER MESS WITH MILA.
I don't know who Sawyer is or where he is, but I really hope he's prepared for the fury of this alpha toddler coming his way.
Citations: 'Never ever talk to me like that': Dinky diva's phone rant to her 'boyfriend' proves she may be low in stature…but she's certainly HIGH in maintenance (MailOnline)