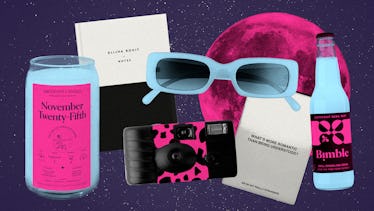 24 Last-Minute V-Day Gifts Based On Your Partner's Zodiac Sign
Elite Daily/Lindsay Hattrick
So far, 2022 has felt like a frigid, snowy blur. That said, who could blame you for forgetting to get your partner a gift for Valentine's Day? The good news is that you've remembered (with time to spare) and it's not too late to place an order to arrive on time. Brainstorming gift ideas on a tight deadline can stump even the most creative people, so let us do the heavy lifting for you. These last-minute Valentine's Day gifts for your partner's zodiac sign will come in clutch if you get in gear and hit "Buy Now" ASAP.
You know your partner better than anyone else, but taking their zodiac sign into consideration can be an effective way to ensure you're getting them something they'll totally love. Their birth chart can shed some serious celestial light on their likes and dislikes, passions and pet peeves. Earth signs Taurus, Virgo, and Capricorn are infamously drawn to luxury and practicality. Social air signs Gemini, Libra, and Aquarius embrace every opportunity to engage in meaningful, intellectual conversations. Water signs Cancer, Scorpio, and Pisces — the most emotional of the zodiac — value gifts with sentimental meanings that show you really get them. And fire signs Aries, Leo, and Sagittarius are impulsive, adventurous, and sexy. They're drawn to anything that celebrates their joie de vivre, their lust for life.
How much you spend doesn't matter nearly as much as getting them something you know they'll appreciate. Below, you'll find two dozen gift ideas under $100, including plenty under $25. We've pinpointed two presents for each sign because we know one item can't fit everyone's tastes. Let the stars guide you to shopping success this Valentine's Day.
We only include products that have been independently selected by Elite Daily's editorial team. However, we may receive a portion of sales if you purchase a product through a link in this article.
Although Valentine's Day is almost here, there's no reason to give up on finding the perfect gift. If you want to make your partner feel really seen on this romantic holiday, take a look at their zodiac sign.
This article was originally published on