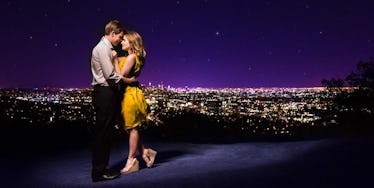 These 'La La Land' Engagement Photos Will Give You All The Classic Romance Feels
M. Hart Photography
Move over Ryan Gosling and Emma Stone. This real-life couple just turned "La La Land" into a reality, courtesy of some adorable engagement photos.
Ellen Wleklinski and Corey Collins worked with M. Hart Photography's Marlies Hartmann for the old Hollywood-esque shoot, set in classic locations around Los Angeles.
The two were excited to replicate the on-screen love and devotion seen in the romantic movie-musical "La La Land," using Stone's and Gosling's characters as the driving theme behind their photoshoot.
The actual idea came from Hartmann herself, who used Wleklinski's setting suggestion of the Griffith Observatory (a location used in "La La Land") to create a concept that combined aspects of both real and fictional love stories into one.
"I was initially hesitant to suggest it to them since I wasn't sure if they had seen or even liked the movie, but I threw out the idea and they loved it!" Hartmann said to The Huffington Post. "They were both huge fans of the film, and Ellen always felt that Corey looked like her own personal Ryan Gosling!"
Now, I wouldn't exactly call 'em twins... but Corey can still get it.
The beautiful photos, taken around Griffith Observatory and the scenic Hollywood Bowl Overlook, were captured over a few weeks in January 2017.
The two plan on officially becoming husband and wife in September 2017 at the Redondo Beach Historic Library in California.
"Ellen and Corey's relationship encapsulates the same romance, passion, playfulness and chemistry that was felt between Mia and Sebastian throughout the film," Hartmann said to The Huffington Post. "Not only did they resemble the characters physically, but their relationship embodies all the best elements of Gosling and Stone seen in the movie."
It hasn't been said if the "La La Land" theme will carry over to their nuptials, but fingers crossed the stars of the film catch word of their shoot and make a surprise cameo appearance at the wedding.
But if Ryan Gosling showed up at my wedding, I would probably scream, "I object!" myself.
Sorry 'bout it.
Citations: These 'La La Land' Engagement Pics Capture That Old Hollywood Romance (The Huffington Post)